Last Updated on 10 months by Christian Kaiser
Create unique AI images with these 8+ top AI image generators
There is a reason why images and graphics can be found on every website. They arouse emotions and make it much easier for us to process and understand information. Meanwhile, there are freely available tools that create unique and suitable AI images without much effort. This smart capability opens new doors for many industries.
With the help of AI image generators, simple text is transformed into incredible images in seconds. This way you can generate a time and money saving image that you can use for your blog, website, YouTube thumbnails, flyers and other ads. We've scoured the ever-growing market of AI image generators for you and picked out the cherries of AI tools that we want to introduce to you in the following post!
You may already know the AI text generator Jasper AI, which is used to create automatic texts. Jasper Art* You can now use it to create additional, fast website and marketing content. With a few words and targeted modifications, you'll get unique images that can mimic different artistic styles and moods.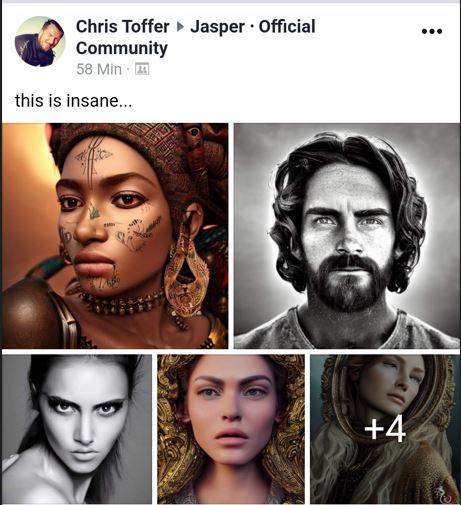 Who is Jasper Art suitable for?
Jasper Art is a new useful tool from Jasper AI that can be used in conjunction with other features. This includes creating and translating texts of all kinds using AI. For businesses and creators who need diverse content, Jasper is the ideal tool. It combines all the important elements to take your business to a new level. Instead of degrading your SEO score by using stock photos many times, Jasper Art helps create unique images.
Jasper Art is therefore particularly suitable for:
Blogger
Company
Website operator
What are the main features of Jasper Art?
Creating AI images has never been easier with Jasper Art. The AI only needs some text information, which is then converted into perfect images in a few seconds. Currently Jasper Art offers two different modes to generate images:
Basic
Various areas are queried here. In addition to your own keywords, you can define image size, style, artist and mood more precisely.
Freeform
Here, regardless of the artist and the mood, the AI creates its very own wild images. Only a short description of your ideas must be recorded.
In both modes, the more detailed you describe the desired image, the better the results.
Jasper Art advantages
Jasper offers the best text and image generator in one package
Image creation takes only a few seconds
Through various selection options you can get closer to your desired result
High image quality
Jasper Art Disadvantages
Paid (20 USD per user per month) – but any number of AI generated images, no limit
Price comparison
Jasper Art can now be purchased independently of Japser.ai.
For 20 USD per user and month you can have images generated without limits.
For all those who are additionally interested in KI Text Generator are interested, the following prices apply
Starter for $40/month (35,000 words)
50 different AI templates
Support in 20 different languages
Up to 10 users
Chat support
Boss Mode for $99/month (100,000 words) –> Recommended! This package is the test winner for German AI texts

Features from Starter Package
Google Doc Editor
Additional tools
Higher quality
Business (individual plan & price)
Required tools are tailored to the user
Technical support
Onboarding & Training Sessions
Various payment options
Short and sweet: Jap style
Although Jasper is more expensive compared to other programs, it convinces with high quality images and texts that hardly need any correction. Jasper offers the best quality in most areas and will enrich your work. Due to the numerous features, the software is ideal for large but also small up to single companies.
As with Jasper Art, Neuroflash offers an AI Texter, AI Tester, and other tools in addition to its AI image generator. Those who don't feel particularly fluent in English will get their money's worth with Neuroflash as a German AI content tool. Currently [as of: 20.09.2022], the software is in beta, but can still convince with outstanding, detailed results. The creation of an image requires a sentence or individual words, further settings, such as the selection of the mood or style, are currently not possible.
For whom is Neuroflash suitable?
For bloggers, entrepreneurs or website owners who constantly need new content, Neuroflash can be helpful due to its numerous features. With the new AI image tool, which is particularly convincing due to its realistic style, additional thematically appropriate images can be created for blog posts, social media posts or for websites.
Neuroflash is therefore particularly suitable for:
Blogger/Writer
Marketing Company
Website operator
What are the main functions of Neuroflash?
To be able to create an AI image at Neuroflash, only an empty line is given where you can write down your creative ideas and imaginations. An individual image is generated from individual words or sentences, which does not follow any particular scheme.
Advantages of Neuroflash
Simple operation
detailed resolution
A unique style is created
AI copywriter tool included
Neuroflash disadvantages
No choices of style, mood and image sizes
It takes several seconds for an image to be generated
In the Basic & Power packages the number of AI images is strongly limited
No possibility to use only the AI image generator
Price comparison
As with Jasper, Neuroflash offers three individual price packages that can be paid monthly or annually and can be cancelled at any time. These packages are designed for the AI Texter tool, but unlike Jasper, include a different number of AI image requests per month:
Free (2,000 words)
80 text types and templates
Rewriting, summarizing and rewriting texts
5 Let AI create images
1 x WDF*IDF and SERP analysis
Basic for 29 €/month (20,000 words)
80 text types and templates
8 languages
Rewriting, summarizing and rewriting texts
25 Let AI create images
5 x WDF*IDF and SERP analysis
Power for 79 €/month (200,000 words)
Features from Basic package
Premium Support
Have 50 AI images created
100 x WDF*IDF and SERP analysis
Premium for 199 €/month (unlimited words)
Features from the power package
AI tester
Let AI create unlimited images
Unlimited WDF*IDF and SERP analysis
Short and sweet: Neuroflash
Neuroflash is designed primarily for a business that needs a lot of text and wants to generate an image every now and then. If you are looking for an image generator only, this software is less suitable.
The AI from German founder Nico Engler, has made another Mensa offer. In addition to the lifetime account for the KI Text Generator, there is now also a KI Image Generator integrated, and also here the results can be seen:
For whom is Closerscopy suitable?
Closerscopy is suitable for those who want to make a bargain and use both an AI image generator and an AI text generator.
Anyone who is creative can get a great deal here.
loserscopy is therefore particularly suitable for:
Bargain hunters who recognize the potential of AI.
Bloggers/content creators who create a lot of graphic and textual content
Entrepreneurs & self-employed who have many customers and want to save a lot of money with the LIFETIME DEAL
What are the main functions of Closerscopy?
The best feature of Closerscopy is the wizard, which allows you to easily create various prompts.
You can choose: style, artists, formats, boosters, vibes and perspectives.
Advantages
LIEFTIME offer – very good price-performance ratio
Super simple prompt creation
Good results
Storage in 4k quality possible
Disadvantages
Only one image is generated per protein input, therefore the generation takes longer than with other providers
Price comparison
LIFETIME offer for an AI Image Generator – No Brainer.
The German-language AI content tool lets you conveniently generate texts as well as images. As with Neuroflash, there is no direct translation, so sentence structure errors are avoided and text quality increases. Also with the AI Image Tool, the input is done directly in German. Only one sentence should describe the content of the image. In addition, selecting a particular style can define the image more precisely.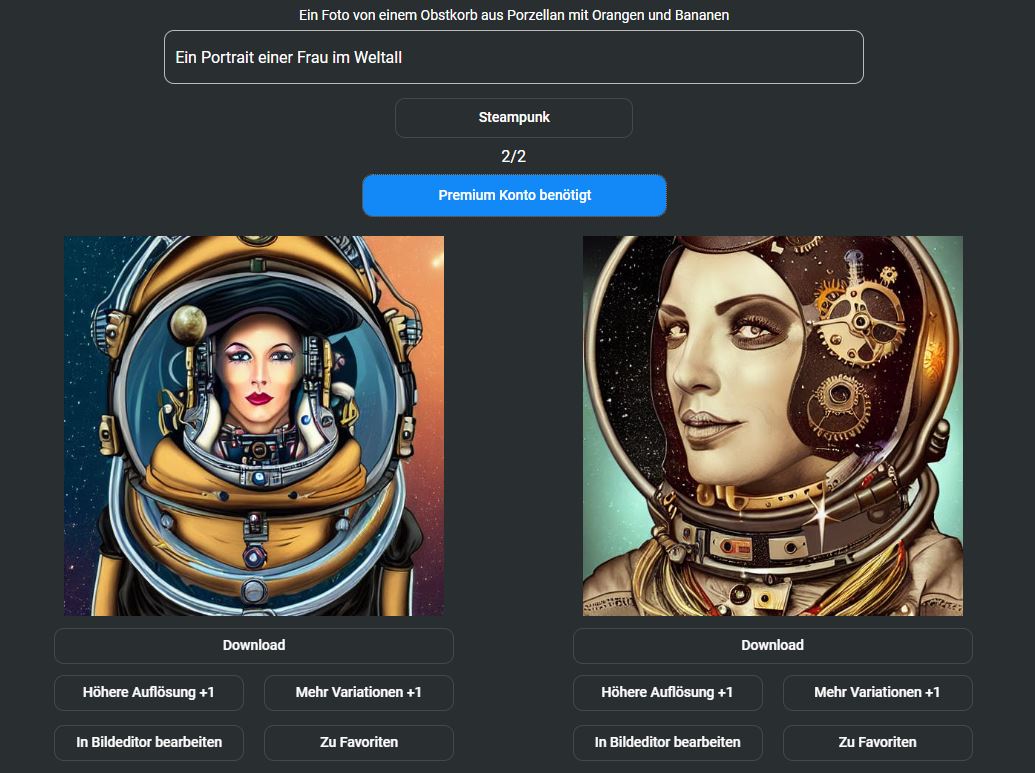 Who is Mindverse suitable for?
Whether you are a freelancer, professional writer, blogger or marketer, Mindverse covers all essential areas of content creation through its diverse features. Especially bloggers and writers who work in a niche can take advantage of Mindverse, because directly with one query several similar images are created, which can all be used.
Mindverse is therefore particularly suitable for:
Blogger/writer of a niche
Entrepreneurs & Self-Employed
What are the main features of Mindverse?
The main feature is the AI text generator, which provides good text quality and can even write in dialect. A Gmail integration, a Chrome extension as well as SEO help for optimized ranking sets Mindverse apart from common AI copywriting tools. To generate the AI images, all you have to do is select a style and insert a sentence in the given line.
Advantages of Mindverse
Self-explanatory German user interface
4 images with one request
Style can be chosen
Disadvantages of mindverse
Image creation takes up to 30 seconds
In the packages the AI image creation is strongly limited (in the Basic package there are only 4 requests/month)
Price comparison
Instead of being calculated by words, Mindverse's packages are based on requests per month. Each package is billed monthly and can also be cancelled at any time. When looking at the available options, it becomes clear that this software is mainly focused on AI texting:
Basic for 39 €/month
450 requests
4 AI images
AI Brainstorming
Gmail Integration, Chrome Extension
Premium for 99 €/month
1500 requests
50 AI images + editor
AI Brainstorming
Gmail Integration, Chrome Extension
SEO Support
Premium Plus for 199 €/month
3500 requests
150 AI images + editor
AI Brainstorming
Gmail Integration, Chrome Extension
SEO Support
Plagiarism check
AI analysis
Short and sweet: Mindverse
If you primarily want to have texts created and need a few AI images now and then, Mindverse is the right program. Impressive results were achieved in the test with the few image requests available per month.
Dalle E 2 from OpenAI is among the most advanced artificial intelligence and has only been available to a few people who have been given a place on the long waiting list.
But now the AI has been released and anyone can use it.
The sophisticated tool has become famous for the image "An astronaut rides a horse in photorealistic style". The AI even added stars because it understood what kind of image the user wanted. Combining unrelated subject areas is one of the greatest strengths.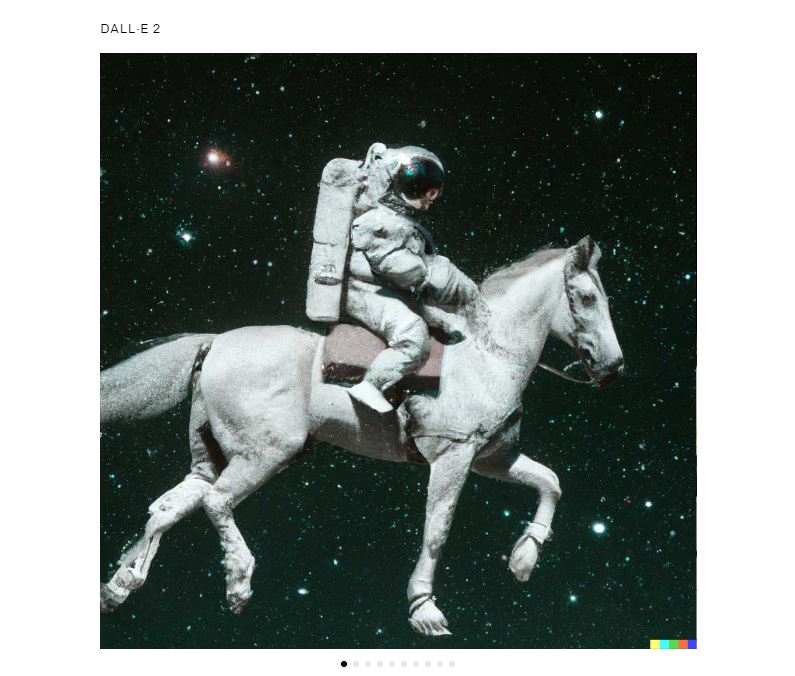 For whom is Dalle E 2 suitable?
Dalle E 2 offers countless possibilities. Creative minds as well as large and small companies are certainly looking forward to using Openai's technology now.
Dalle E is particularly suitable for:
Private User
Designer/Artist
Blogger
Large and small companies
What are the main functions of Dalle E 2?
This tool can not only create realistic AI images, but also replace individual elements in the image with simple specifications. In addition, you can import your own image, which can be displayed from a different angle with the help of the AI, but can also be given a completely new style or additional details.
Advantages
The AI understands the relationships between words
Elements in individual images can be exchanged
If you get an account, you can generate 15 images a month for free
Disadvantages
No public access (enrollment on a waiting list is possible)
No specific choices of style, mood, character, color scheme, etc.
What costs Dall E 2
After registration you will receive 50 credits, then 15 free credits per month. One image creation costs 1 credit. There is a possibility to buy new credits. For 115 credits, you pay $15.
Why should I try Dall E 2?
Dall E 2 offers you the possibility to include elements in an existing image by adding a description. Shading, colors, reflections and other factors are taken into account.

Already open to the public since 2019-09-13, NightCafé Creator creates amazing artwork for users. Easy to use with choices of styles and more, the artificial intelligence creates an image in less than a minute.
Who is NightCafé suitable for?
The free AI tool is suitable for artists and designers, but also for private people who want to test the world of AI image tools once unconstrained. Through the free choice of styles, can create oil paintings, cartoons, drawings and much more.

NightCafé is therefore particularly suitable for:
Private User
Designer/Artist
Blogger
What are the main functions of NightCafé?
NightCafé works with credits that are replenished every day. If you need additional credits, you can buy them directly. After entering the text and selecting the style, you will receive a notification when the AI image is ready. You can also select multiple styles. There is also the option to mask certain areas of the image and have a new style superimposed on them.
Advantages
Multiple selection of styles possible
Daily 5 images can be generated for free
Targeted masking can be used to further customize created images
Disadvantages
Image generation is relatively slow (about 20 seconds per image)
Price comparison
NightCafé hands you 5 credits every day. At 2 o'clock in the morning the credits are renewed again. One image creation costs 1 credit. If you need more, the software offers the following 4 price packages:
AI Hobbyist for $9.99/month
100 credits
2.5x faster image generation
AI Enthusiast for $19.99/month
250 credits
2.5x faster image generation
AI Artist for $49.99/month
700 credits
2.5x faster image generation
AI Professional $79.99/month
1500 credits
2.5x faster image generation
Short and sweet: Nightcafé
While the free version can only generate 5 photos a day, it's an optimal alternative to all the AI art tools, especially for small bloggers who don't need much imagery.
This software has an artificial intelligence called Pareidolia that can create a psychedelic image with the help of an upload. The goal of DeepDream Generator is to create all images in the style of a dream. Unlike other tools, there is no text input.
Who is DeepDream Generator suitable for?
If you love abstract painting and are looking for images that don't involve traditional painting or drawing methods, this AI art generator might be just what you're looking for. With surreal, visual and abstract content, the software serves as inspiration for artists and designers. It is also a great way to see your own work from a different perspective.
DeepDream Generator is therefore particularly suitable for:
Private users
Designer/Artist
What are the main features of DeepDream Generator?
The AI image generator provides you with three functions. With Deep Style you can superimpose a certain psychedelic style over your own image. The Thin Style is similar to the Deep Style, but much faster and convinces with unique results. The Deep Dream function was originally designed for scientists and engineers, but in the meantime the algorithm has been geared towards abstract art
Advantages
Own designs/works of art get a new style direction
Some settings and styles are selectable
Disadvantages
Very long generation times (up to one minute at 0.6 MP)
No wishes can be specified by text
You must always use your own image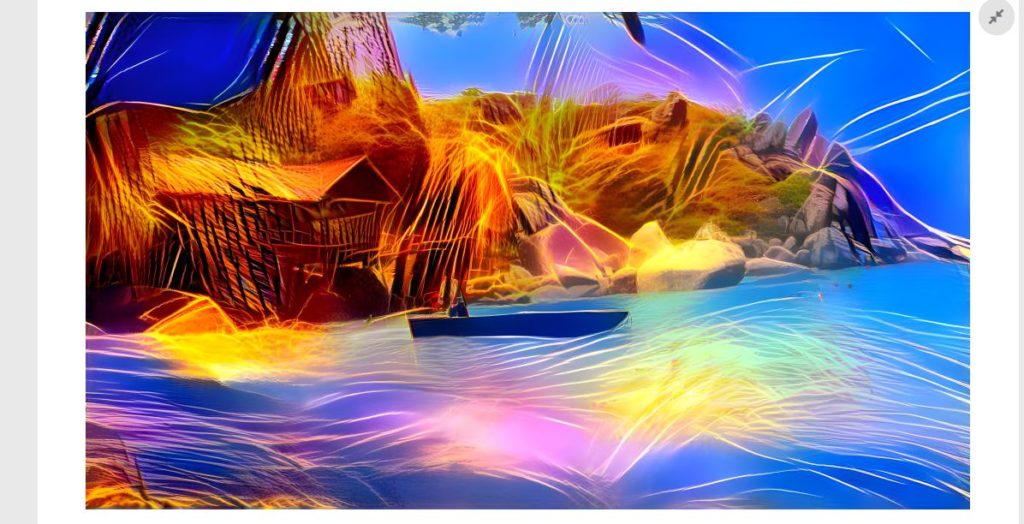 Price comparison
With DeepDream Generator packages you get energy points. Depending on what function you choose and what resolution you want, you will need different amounts of energy points. Every hour your energy is recharged by a few points. The tool offers you the following three price packages:
Advanced for $19/month
120 energy points
In one hour 12 energy points are charged
20 GB storage space
Resolution up to Full HD possible
Professional for $39/month
250 energy points
In one hour18 energy points are charged
50 GB storage space
Resolution up to Quad HD+ possible
Ultra for $99/month
750 energy points
In one hour 60 energy points are charged
200 GB storage space
Resolution up to Quad HD+ possible
Short and sweet: DeepDream Generator
Since realistic photos are not created and custom uploads are required, this software is not suitable for larger companies that want to create unique images efficiently and cost-effectively. Creative people with their own photographs and paintings can use AI for a change of perspective and new inspiration.
Midjourney
Midjourney is an interactive chat with AI that runs over Discord. Keywords or phrases are transmitted to the AI, which promptly spits out several, corresponding images. If you like a particular image, you can refine it further with the AI until you get the perfect result. There are several channels where the community exchanges and shares their results.
Who is Midjourney suitable for?
The tool is aimed at young creators, designers, artists, but also bloggers or private users. If you're into sharing, just looking for a tool to have images created, and are familiar with Discord, Midjourney could be a good option. According to Midjourney, you get the right to use the images commercially, but you have to be a paying customer.
Midjourney is therefore particularly suitable for:
Private User
Designer/Artist
Blogger
What are the main functions of Midjourney?
The special feature of this AI image generator is the creation of several images at once, which can be customized and expanded. For example, an already generated image can be regenerated with a different style. You can also process your own images or images from the Internet using the URL as a parameter.
Advantages of Midjourney
Large Discord community
With one request you get four images
Generated images can be upscaled
25 images can be generated free of charge
Midjourney disadvantages
Discord account required
No specific settings can be made
It's a public chat, everyone sees your generated images
Price comparison
First of all, Midjourney can be tested for 25 minutes free of charge. Through the open community at Discord you can also follow the input of the other users. If you are convinced by the images and want to generate more, you can become a subscriber. To that end, Midjourney has put together two commercial plans and one plan for larger businesses:
Basic for $10/month
200 minutes
Personal bot chat
For an additional $20, the images are viewable only by you.
Standard for $30/month
15 hours
4x faster GPU
Personal bot chat
For an additional $20, the images are viewable only by you.
Corporate for $600/year for large companies
120 hours
4x faster GPU
Private image viewing
Personal Bot Cha
Short and sweet: Midjourney
If you like the exchange and are already active on Discord anyway, you can generate a lot of images in the various chat rooms for little money, put the AI through its paces, and use the renderings commercially at the same time.
TikTok AI green screen
In the currently most popular app TikTok there is a new free filter called AI Greenscreen. It allows the user to enter a few words. These are converted into an AI image and can be used as background for TikTok videos. The filter creates rather abstract images with adventurous reflections.
Who is the AI Greenscreen from TikTok suitable for?
Mainly, the feature is aimed at TikTok creators who use the image as a background to create a video. Downloading the image is currently not yet possible.
What are the main functions of AI Greenscreen?
If you want to create a video on TikTok, you can also select AI Greenscreen among the effects. This can also be combined with other effects/filters. A line will appear where you can enter up to 6 words that describe the image you want to generate.
Advantages
Free of charge
Simple operation
Disadvantages
TikTok account is required
Generated images cannot be saved
Price comparison
If you are already a TikTok user and want to take a first look into the world of AI image generators, you should give this free effect a try. However, as soon as you want to save images and use them elsewhere, you should rather resort to a paid tool.
Short and sweet: TikTok
For content creators who are already active on the platform, they can try this filter and follow the current trend. Testing the filters is not only fun, but can bring new followers in a well-packaged video.
Extra image enhancement with Topaz Labs
Tapaz Labs is the first image enhancement AI's to win an art competition. Jason M. Allen won the Colorado State Fair Fine Arts competition using Midjourney 's AI image generator and Topaz Labs' AI.
Topaz Labs aims to maximize the quality of an image with the highest level of automation.
And customers like that, too: Over 32,000 5-star reviews on Trustpilot!
Overview of the possible uses of the AI image generator
Even though AI image generators are not yet mature, they are already helping people from a wide range of industries. We have broken down how and where you can use the AI images below. Please inform yourself independently about the current legal framework regarding copyright and reuse.
Blogger/Writer/Authors
A picture can loosen up your text and support it at the same time. Whether it's a fantasy novel, blog post about craft projects, or a children's book. With a suitable AI image tool and the correct input of the words you will get realistic photographs, drawings, abstract illustrations and much more.
Artist/Designer/Graphic Designer
Many artists, designers and graphic artists fear the destruction of artistry. But rather, AI can assist in idea generation. Whether you're pursuing abstract art, Asian drawings, cartoons, expressionism, naturalism, pop art, or other styles, typing in these targeted words will give you representations from the AI that can help you with your project.
Entrepreneur
AI also offers many potential applications for small and large companies as well as agencies. Depending on the copyright, the generated image can be used for products, the homepage, advertising campaigns and much more. Everything is possible from a real photograph, to surreal drawings. However, targeted photos by photographers, illustrators and concept artists cannot be fully replaced at this time.
It all depends on the input – Guideline for the use of the KI generator
AI image generators are programs that draw on a database of images to generate new ones. Through a targeted text input, the tool goes through the huge database and creates a new, unique image based on the existing images. To make the AI understand what image you want, you need to pay attention to the right choice of text.
If you pay attention to the following points, you will most likely get a picture according to your ideas:
Be precise
If you want to create a certain style, such as pop art, or even the style of an artist, such as Picasso, you must also enter the appropriate terms in the text box.
Examples:
"A house by the lake painted by Picasso."
"The bird in space, abstract art".
"Portrait of a superhero, detailed, 4k"
Keep it short
AI image generators are not always perfect, but only as good as the data basis. So too many details can not always be implemented ideally. The shorter and more accurate your information, the better the result
Instead of writing, "A small, one-armed man in a pointy hat wanders through the green, dense forest while the moon leads the way."
Write rather: "Little man with hat in the forest."
Learn from others
The AI still struggles with photorealistic images, especially when faces are to be generated. The best way to do this is to stick to the texts that others have already written and make only minimal changes to them according to your own ideas.
FAQ
Can I sell the AI images as NFT?
Yes. As of [20 .09.22], images created using a tool, including artificial intelligence tools, can be sold directly on the NFT market. However, it is forbidden to copy and resell the art, this violates copyright.
Sources: https://simplified.com/blog/ai/can-you-sell-ai-generated-art/
Can AI image generators replace artists?
If you paint in a style all your own, you don't run the risk of being copied and replaced by an AI. They should be seen more as art inspiration. However, there is also a case in Colorado where the winning painting of an art contest was designed by the artificial intelligence.
Which is the best free AI images tool?
Nightcafé and Dalle E are free tools for creating unique artworks. But here, too, the number of requests is limited on a daily or monthly basis. Those who already use TikTok can use the AI Greenscreen for free here to get a first glimpse into the AI imagery world.
Are AI generated images copyright protected?
According to Telemedicus [Beitrag vom 13.02.2019], under German copyrightlaw(§ 7 UrhG), only a human being can create a work. The work that is created by an AI, even if it was previously developed and enacted by a human, is not sufficient – that is, the image is likely to be copied and altered. It is different when a personal work, such as a photo motif, is included. Due to current discussions, the legal situation can change at any time – please inform yourself about the current status.
What images can be created using AI?
Realistic drawings, oil paintings, watercolor paintings, graphics, portrait paintings, illustrations, abstract & surreal art, comic drawings and much more is now possible by means of artificial intelligence.
Which app can be used to create AI images on the go?
Since generation requires little input, just about any AI tool can be used on the go. Those who already have TikTok or Discord on their smartphone can use Midjouney or AI Greenscreen.
What is the name of TikTok's AI image generator and how do I find it?
The popular filter that lets you turn plain text into an image is called "AI Greenscreen". You need a TikTok account to use it. Press the plus icon in the center, tap Effects on the left and search for "AI Greenscreen".
Conclusion – Powerful AI tools with huge potential
With the new era of AI imagery tools, a change is also being brought about in the design and art industry. The broad field of application, the impressive results and the ever-learning AI will certainly become more and more relevant in the future. If you want to improve your work process today, you should definitely take a closer look at image generators. Even if they have not yet reached their full potential, the programs already create incredibly realistic images.
If you are also interested in automatic text generation, Jasper, Neuroflash or Mindverse are particularly suitable. Here you get the complete package, with which you can work faster and more effectively.
Please note:
I make my money through affiliate links, which are highlighted with an *. Should you purchase a product through one of these links, you are not only an absolute hero or heroine, but you are helping me continue to produce informative content that will hopefully help you along. And the best: There are no additional costs for you. I only get a small referral fee from the respective provider.
Many thanks!
Other articles that might interest you: