Last Updated on 10 months by Christian Kaiser
Which CMS system suits you? The big Content Management System (CMS) comparison 2023
14. December 2022
– Christian Kaiser
Which CMS system is right for me? A question that often comes at the beginning of a blog, website or store. The market of content management systems is huge. The decision for one of the many software solutions is not easy. It's easy to lose track of everything.
To make sure this doesn't happen to you and that you choose the right CMS, we have conducted an extensive test of content management systems for this article and created a great comparison.
The top CMS systems at a glance – Which CMS is right for you – Comparison
Which CMS is the best? Right at the beginning, we would like to introduce you to our test winners. In our CMS test, we took a close look at the functions and user-friendliness in particular.
In addition, we ask the question, for whom the CMS system is particularly suitable. After all, it makes a big difference whether you're building a personal or corporate website, running a store, or getting off the ground with your blog. Each CMS serves a slightly different target audience.
Our top selection for CMS:
What is a CMS system actually?
CMS stands for Content Management System. The German translation is content management system.
The term is used primarily for software that simplifies or enables the creation, publication and management of digital content. In this way, created content can be made accessible online. CMS systems are often used in the context of blogs, websites and online stores.
Content can range from text to images to videos. A content management system can be operated without programming knowledge. Only partial basic knowledge is required.
Areas of application of CMS systems
The question arises as to why a content management system (CMS) is needed at all and in which areas content management systems are used. There are three key differentiators.
Website Builder
One's own website is considered a digital business card. For customers, the search for a service provider or supplier almost always starts online. Thus, as an entrepreneur, it is important to build your own web presence.
A website builder opens up a whole new range of possibilities. Dive into the world of web design and develop high-quality websites in no time. Especially Wix, strikingly or Webflow have focused on the creation of websites.
Content management systems for blogs
Blog creation and its maintenance is also often based on CMS systems. A blog is about creating and publishing articles. And that's exactly what a CMS helps you with. You can easily upload, format and deliver your content to your readership.
There are different content management systems that are precisely tailored to this use case. WordPress is widely used in both personal and business environments. However, modern CMS systems, such as Wix or Squarespace, are also gaining popularity.
Store systems
Anyone who runs or wants to run a store realizes how much content is actually needed to set up and expand online stores. From overview pages to category pages to the individual products, a store system helps you not to lose the overview.
Especially with the increasing importance of online business, it is important to choose a suitable store system. Here, too, the choice is great.
Among the most popular products are Shopify and Wix. In the enterprise context, Gambio in particular is a frequent choice.
The all-rounder WordPress with its integration WooCommerce also allows the possibility to integrate a store into the own website or blog.
Which CMS is the best?
The result in advance – the test winners in the big CMS comparison
There are many options when it comes to the optimal content management system. The different content management systems have different focuses. Thus, the area of use is ultimately decisive in determining which CMS is right for you.
Each area of application of a CMS certainly has a different test winner. It depends on your requirements first and foremost. If you want to play it safe, WordPress is the right choice for you.
All-rounder for large and small websites that are flexible
The absolute all-rounder with the largest market share is. WordPress. The popularity does not exist without reason. WordPress combines extensive features with ease of use.
The CMS is a good choice for all those who want to remain as flexible as possible when building a website, blog or online store.
For marketers looking for additional integration with a CRM, we recommend HubSpot .
Simple and fast to your own company website Webflow
Website builders, such as Webflow, Wix or Format are the ideal solution for anyone who wants to quickly create a website with simple means.
Webflow convinces with an intuitive handling and thus makes website creation with animations accessible for everyone. Templates are a good basis and make the start with the system easy.
Unique and high-quality websites are also promised by the Website Builder Wix . The American company has been working in this market for a long time and is especially popular for creating websites.
Getting started with Wix is a bit cheaper than the alternative Webflow. If you want to create a website in a straightforward way, Wix is a good choice. A small store can also be integrated.
Format is a CMS, which offers especially for artists and photographers, an easy way to present their portfolio. Few bells and whistles, but focus on your own works.
Best store system – Shopify
With the increasing importance of e-commerce Shopify especially among online shop operators. Stores are easy to create and good for customers to use. You have access to many templates and can quickly bring your store to life.
If the focus of your online presence is selling products in an online store, then Shopify is the right choice for you.
If you are looking for a German alternative to Shopify, you are very well advised with gambio.de very well advised.
WordPress – the CMS with the largest market share
With over 43% market share, WordPress convinces with extensive features and good usability. WordPress offers a versatile set of features that can be used without writing any code.
Especially suitable for: Website, store and blog operators or those who do not yet know exactly where the journey should go.
Price: There is a free tariff. Extensive features cost between $4 and $45 per month. For plugins that can be booked, there is often a free trial version.
WordPress at a glance – The test results
With the open source CMS system WordPress you have the possibility to bring your website, blog or store to the web without much technical knowledge. With WordPress.com you do not have to take care of a server, but benefit from the support of the provider.
WordPress scores in terms of functionality and offers everything you need as a CMS. A large selection of plugins is also available. In order to find your website in the search results and achieve a good ranking, the CMS system also creates important foundations.
Technically savvy users can customize themes. Thus, WordPress also meets special requirements.
However, the user-friendliness is a bit weaker compared to other products. While using it, one has to learn the web content management.
Difference WordPress.com and WordPress.org
If you are looking for information about WordPress, you will quickly come across WordPress.com and Worpress.org. While WordPress.org allows you to choose your own provider for hosting your blog or website, WordPress.com hosts you directly there.
With both options, the software ends up being the same. It has the same functions and looks the same. Only the place of hosting differs.
In the end, this distinction makes no noticeable difference to the end user. However, with WordPress.org, the advantage is that you, as the site owner, have access to all plugins and can customize your content management system to your individual needs.
However, the advantage of WordPress.com is that the entire hosting area can be outsourced. Thanks to WordPress.com you don't have to worry about the technical provision of your CMS system.
The functions of WordPress
Media library
In the media library you have the possibility to upload files such as images and videos to use them later on your website. You can structure and store media in the content management system.
Pages
You can make the uploaded media accessible to your visitors via pages using the CMS system.
Contributions
Posts are an essential component on a blog. With WordPress you can create them easily.
Themes
Your content should be attractively presented on your website with the help of your CMS system. Themes will help you with that. Themes are templates that you can use to make your website look good.
Plugins
There are a lot of plugins available for WordPress. Online stores provided via WordPress, for example, use Woocommerce. There are individual plugins for almost all use cases, which are constantly being developed further.
Advantages of WordPress
Extensive features compared to other content management systems:
Free version available
Free choice of hosting provider
Large community for the exchange of problems
Disadvantages
User-friendliness could be improved compared to other tools
Other hosting offers for WordPress CMS system are cheaper compared to WordPress.com
Price comparison
WordPress.com is certainly not the cheapest option to host your Worpress website. Other providers offer a comparable service and cost less. WordPress.org itself is a free open source software, which covers all CMS functionalities. The cost of hosting the software must be taken into account. All in all, WordPress enjoys a great popularity and convinces with its functions not without reason.
HubSpot – Content management in an all-rounder with CRM integration
HubSpot is one of the most popular marketing and sales tools available on the market. With extensive features, HubSpot has a wide range of uses. The question is how the Allrounder compares to other CMS systems.
Especially suitable for: Website operators and especially marketers
Price: There is a possibility of limited free use. Plans ranging from $21 monthly to $1104 are available for booking. The following prices are charged for the Marketing Hub:
HubSpot CMS at a glance – The test results
HubSpot as a comprehensive marketing and sales platform has a lot to offer. The CMS is often not even perceived independently due to the wide range of features. But even with this CMS you can develop beautiful and responsive websites with the help of templates. The key feature is the direct integration into the CRM or marketing automation system.
The functions of the HubSpot CMS system
Drag and Drop Editor
The drag and drop editor from HubSpot CMS is easy to use and allows you to create versatile designs.
Direct integration into the CRM
The direct integration into the CRM system offers versatile possibilities to gain customers from the publication of content.
Suggestions for SEO optimization
HubSpot CMS also emphasizes the search engine optimization option. You can use the CMS system to constantly optimize your website and achieve better rankings.
Advantages of HubSpot CMS
Holistic approach of HubSpot with the direct integration into marketing and sales
Good ways to optimize content for Google
Disadvantages
HubSpot offers versatile integration, but the price is comparatively very high
A store can be integrated only with the help of plugins
Customer Success
Squarespace – design at a high level
With Squarespace you have access to a website builder with full-featured CMS. Squarespace also offers solutions for deploying online stores.
Especially suitable for: Users who place a special emphasis on an aesthetic website without having programming knowledge.
Price: The monthly cost ranges from 11 euros to 36 euros.
Squarespace CMS at a glance – The test results
Squarespace is also an all-rounder in terms of the functions provided and offers many possibilities. In our test, Squarespace convinced above all with its simplicity. The websites are very visually appealing and the templates are geared towards different use cases.
The functions of Squarespace
Templates tailored to target groups
The templates, which are tailored to specific user groups, lead to a quick implementation of website projects.
Blog
In addition to the website, you can also integrate a blog with Squarespace to provide exciting content to your potential customers.
Store
The integration of a store is also possible. Compared to other store systems, however, the range of functions is significantly reduced.
Advantages of Squarespace
The templates tailored to target groups make it easy to create modern and chic websites in a short time
Squarespace provides extensive resources to help with the creation of websites, stores and blogs
Expansion of the offer with further tools for marketers
Disadvantages
no free version but a 14 day trial period
Wix – the simple website builder
The Wix website builder promises the professional creation of websites without programming knowledge. The CMS enjoys great popularity and offers other functions besides the creation of websites. These help marketers succeed online.
Especially suitable for: Operators of small to medium websites and small stores
Price: You can book Wix from 6,54 € per month. If you need additional functions, for example in the form of the integration of an online store, the monthly costs increase up to 52,36 €.
Wix CMS at a glance – The test results
The Wix CMS convinces with easy handling, many templates and the possibility to easily add a store. It is therefore ideally suited for companies that would like to build up a second foothold with the help of an online store and publish up-to-date information on their own website. For a leisure project, the construction kit is certainly a number too large.
The functions of Wix
Easy to use editor
The Wix CMS offers an easy-to-use editor. The user experience is compelling throughout the creation process.
Editor for more personalization
Wix also offers versatile options for people who want to delve a little deeper. A second editor leaves more flexibility and is especially interesting for those who have a technical understanding.
E-commerce integration
The sale of products is also possible. You can create products, manage inventory and turn your visitors into customers. For small stores, the functions are ideal.
Wix advantages
Very fast creation of modern and responsive websites
Access to many different templates that give a stage to your content
Intuitive usability and no code knowledge required
The professional editor offers versatile customizability and individuality
Disadvantages
With the free version of the platform you quickly reach your limits
Webflow – strong growth of the website builder and content management system
With a special focus on the editor and a high degree of personalization, Webflow also promises an uncomplicated creation and publication of websites and stores. It is particularly interesting that many agencies now also rely on the website builder, because it convinces with good designs and animation options.
Especially suitable for: Small to medium businesses, designers and agencies looking for the optimal CMS for their clients.
Price: Webflow with no own domain can be used for free. Plans from $14 to $39 monthly are eligible.
Format CMS at a glance – The test results
Webflow convinces with a good usability. The editor leaves a lot of room to customize templates. However, for less design-oriented people, you can completely follow a template. The platform is well usable. However, the store is still somewhat less functional compared to other tools.
The functions of Webflow
Interactions
The platform offers the possibility to integrate gamification into the website.
SEO Tools
With the SEO tools you create the basis to be found by potential customers.
Forms
Forms can also be integrated into the website with logical dependencies.
Advantages of Webflow
There is a free trial version
Webflow is easy to use and offers a good user interface
The templates and templates save a lot of time
Disadvantages
Compared to other tools, the store is rather rudimentary
Format – A CMS for photographers and artists with focus on easy usability
Format promises visually appealing and design-oriented websites, where especially creative freelancers like photographers and designers can easily present their work. The CMS sees itself as a platform to build a community.
Especially suitable for: Freelancers in the design and creative fields who want to present a portfolio of their work.
Price: format is usable from $7 per month. Monthly costs of up to $40 are incurred depending on the feature set.
Format CMS at a glance – The test results
Depending on the package you choose, in addition to the CMS system for designing your portfolio website, you also have the option to optimize your workflow. Due to the specific focus on creative freelancers, the platform is optimally tailored to the needs of the target group. So if you're niche, Format is certainly the right choice and makes your life easier, even beyond the website.
The functions of Format
Template based portfolio website
The CMS system is based on templates and thus enables fast provision of data and information. The templates meet the highest visual requirements and present content at a high level.
Integrated workflow management
To optimize your processes as a freelancer, Format provides a variety of integrations. This way you can concentrate on the creative work and won't be distracted by complex processes. Your creativity takes center stage.
Access to many tools
The tools that can be integrated into a format website are versatile. With some, for example, the rankings on Google can be improved. In addition, you can protect content with watermarks to avoid unlawful distribution of your intellectual property. Here, too, the focus on freelancers becomes clear.
Advantages of Format CMS
Clear alignment for one use case
Entire work processes can be optimized with Format
Visually very appealing websites
Disadvantages
No free version available, only a 14 day trial period
Few options for other use cases
Shopify – your own store with just a few clicks
Shopify is also one of the more popular CMS systems and is mainly focused on online stores. The CMS promises the creation of stores in a few clicks. The company, which is headquartered in Canada, targets its software solutions at anyone who wants to get started in e-commerce and is looking for a platform that is easy to use.
Especially suitable for: Operators of online stores of any size
Price: Shopify is usable between 27 and 289 euros per month. In addition, it should be noted that transactions through the store are also often charged a small percentage.
Shopify CMS at a glance – The test results
It's hard to imagine a simpler way to get started with your own store. In a very short time you get used to the interface and maintain the first products. In addition, the integration of a blog to drive content marketing is also exciting. So, in sum, for the operators of online stores and people who want to build their own store, this is exactly the right choice. Shopify is therefore not without reason our test winner in the Shops section.
The functions of Shopify
Store Builder
Store Builder is all about products and their categories. The basic structure of a product page can be defined in the theme. Importing data then creates the pages through which customers can buy the products.
Apps
Shopify offers many integrations. Administrative processes in particular can be optimized through the use of apps. However, it must be taken into account that installed apps often also influence the loading time of the store and thus pose a challenge to technical SEO.
Templates
Templates facilitate the creation of stores and provide a good structure to sell products. Shopify offers a variety of templates, which help in the construction.
Shopify advantages
Ease of use is convincing
You get your store up and running quickly
You have the possibility of individualization and customization of templates
Disadvantages
The larger your store becomes, the more monthly costs you incur
Customer examples
Gambio – a German store alternative
Gambio describes itself on the online store complete solution. With an easy to use construction kit you can easily create your website and store. The pages are SEO-optimized and you don't need any programming skills for a fancy store.
Especially suitable for: Operators of small to medium-sized stores
Price: Prices range from €24.95 to €129.95 per month.
Gambio CMS at a glance – The test results
Gambio convinces in the test especially with easy to edit design templates. In terms of user-friendliness, it is on a similar level as Shopify. Stores can be created multilingual and an optimization of the content for Google is also possible thanks to the extensive functionality.
The functions of Gambio
Hosting
With Gambio, hosting is included. In addition, you have the option to specify your own domain name.
Templates
Modern templates make it easy to create. You can choose from a variety of templates.
SEO Tools
Your Gambio-based store can be customized to meet the requirements of modern search engines. This gives you the chance to be found by potential customers.
Drag and Drop Editor
The drag and drop editor is easy to use and allows for quick website creation.
Gambio advantages
The German company shows, good software does not always have to come from abroad
Gambio is easy to use
The possibilities in terms of optimization for search engines is also attractive
Disadvantages
There is no free version available, but you can test for 14 days
Strikingly – create website in minutes
Strikingly describes itself as the easiest website builder that promises to quickly create beautiful websites, blogs and stores in the browser. Other content management systems offer more functionality, but Strikingly convinces with a reduction of functions in the website builder, which leads to faster results.
Especially suitable for: Website owner beginners who want to quickly build a small site or for anyone who wants to provide new content through the website rather irregularly.
Price: Depending on the features, Strikingly costs between $0 and $49. If you want to use your own domain name, you will need a paid version of the CMS.
Strikingly at a glance – The test results
Strikingly's strength lies primarily in the area of one-page website creation. It is easy to use and clearly designed and therefore offers a quick start. However, compared to other solutions, areas from marketing, for example, are limited. Search engine optimization is possible, for example, by adding meta data, but a good ranking of the page is difficult, especially with the cheaper plans. The challenge with Strikingly in terms of SEO is that it is a single page application – the cheap plan has 5 sub-pages integrated, the more expensive plan has 100. This is probably enough for most companies, but not if you want to actively do content marketing via a blog.
The functions of Strikingly
Templates
At Strinkingly you have the choice between different templates, which can be easily customized. The CMS convinces with an easy usability and allows you to build your website in a short time.
Blog
With Strikingly, besides being able to put a website online, you also have the option to integrate a blog. The blog function is rudimentary compared to other CMS, because for example, through plugins no other functions such as text analysis and suggestions for SEO optimization possibilities can be integrated. Again, it is clear that Strikingly focuses on ease of use and quick results.
E-commerce
The same applies to the integration of e-commerce solutions. You can import products and offer them for sale online. The low range of functions also offers rather superficial usability of the store integration here.
Strikingly advantages
The focus of Strikingly is on usability
Fast results through clear interfaces
Templates allow quick creation of website
A direct contact enables good service and support
No coding skills necessary
Disadvantages
Certainly not the best choice to perform SEO
Limits of free use are quickly reached
Customer feedback
Weebly – Websites and e-commerce under one roof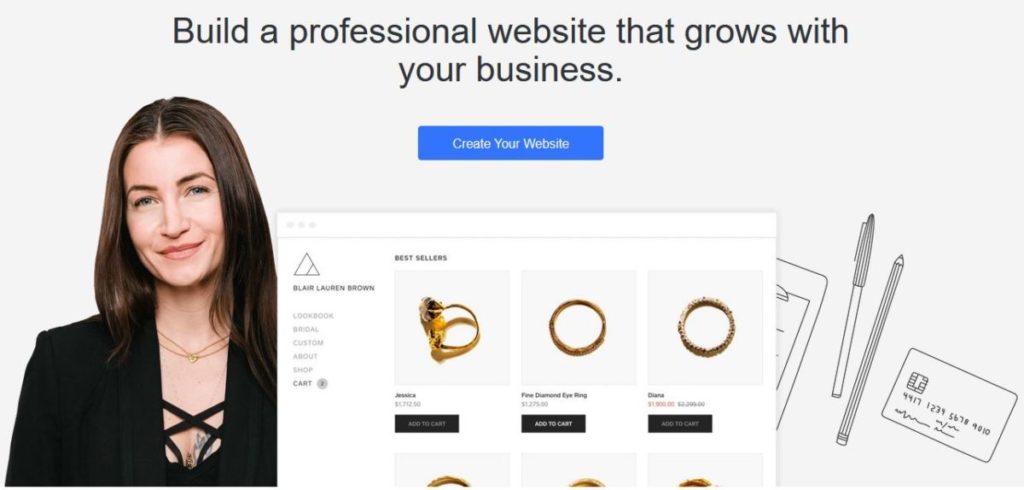 A lesser known website builder is Weebly. Weebly also promises the uncomplicated creation of websites. Especially for people who prefer minimalist designs, Weebly is a good choice.
Especially suitable for: Operators of smaller websites and online stores
Price: Weebly has various plans for websites and online stores. The monthly cost is between 5 € and 30 €. A free version is also available.
Weebly CMS at a glance – The test results
With the construction kit, Weebly promises to bring ideas to reality. So you can easily create websites with Weebly. In the test, it becomes clear that the platform is particularly worthwhile for smaller projects. Especially the few templates that are available as well as the limited blog function make the comparatively low functionality clear.
The functions of Weebly
Drag and Drop Editor
The drag and drop editor gives you some flexibility to place components on the website.
Graphic editor
You can edit and optimize your photos in the creation process without leaving the construction kit.
Video backgrounds
Create modern backgrounds with videos. This is also possible with Weebly. So a modern look of your website is guaranteed.
Advantages of Weebly CMS
You can quickly find your way around the software
The App Center offers you many apps with extensive functions
Storage space without limit is available at Weebly
Disadvantages
Little visual variety in Weebly websites
The blog function is rather rudimentary
Compliance with data protection requirements is controversial, as Weebly hosts outside the EU.
Frequently asked questions about a content management system
Why do you need a content management system?
Content management systems save you a lot of work. You have all your content in one place and can easily maintain your website, store or blog.
How do I decide on a content management system?
Above all, the area of application is decisive. For a small website you need a different CMS than for an extensive store project.
Does the use of a CMS system cost money?
Open source software is available free of charge. Nevertheless, hosting costs money in most cases.
Is a CMS system secure?
A CMS where all necessary updates are performed is basically secure. The choice of provider also plays a role with regard to the question.
Conclusion – which CMS? The big CMS comparison
The market of CMS is huge. There are different tools for different target groups. Most of these tools offer a free trial version. We recommend you to look at the tools and find the optimal solution for you.
Please note:
I make my money through affiliate links, which are highlighted with an *. Should you purchase a product through one of these links, you are not only an absolute hero or heroine, but you are helping me continue to produce informative content that will hopefully help you along. And the best: There are no additional costs for you. I only get a small referral fee from the respective provider.
Many thanks!
Other articles that might interest you: