Last Updated on 12 months by Christian Kaiser
Which is the Best AI Text Generator / SEO Text Generator 2023
19. December 2022
– Christian Kaiser
When it comes to choosing the best AI text generator, you are faced with an ever-growing selection of different providers with various advantages and disadvantages. And not every AI delivers what it promises. We have therefore made it our business to review and compare all AI text generators. We ask ourselves questions like: Which AI text generator produces the best quality AI texts, which AI copywriter supports SEO or which text generator is better suited for a specific project?
We test so you don't have to deal with it. Our review is 100% honest and our goal is to help you make the best choice.
If you don't want to read the whole report, you can't go wrong with Jasper* do nothing wrong. The best text generator on the market delivers amazingly good quality texts in English, German and other 24 languages and offers a wide range of application possibilities.
Ich verdiene mein Geld durch Affiliate Links, die durch ein * hervorgehoben sind. Solltest du über einen dieser Links ein Produkt kaufen, bist du nicht nur ein absoluter Held oder Heldin, sondern unterstützt mich dabei weiterhin informative Inhalte zu produzieren, die dich hoffentlich weiterbringen. Und das Beste: Es entstehen für dich keine weiteren Mehrkosten. Ich bekomme nur eine kleine Vermittlungsgebühr von dem jeweiligen Anbieter.
The usage of artificial intelligence in the automated generation of SEO text is a new and, most likely, long-lasting practice that every business and blogger must consider sooner or later.
One thing is clear: Artificial Intelligence (AI, or Artifcial Intelligence) is changing the way we work and is about to permanently change the content creation process.
More and more entrepreneurs and bloggers are using AI text generators to create high-quality, SEO-optimized content faster for any niche in any form, far outpacing the competition.
I myself have increased my traffic tenfold in just 6 months by using AI. It is important to understand that success does not happen overnight, but that it takes time. More on this later in the article.
Whether it's blogposts, outlines, emails, video scripts and descriptions, social media posts, ads, marketing copy or product descriptions, you're 100% likely to have encountered AI-generated SEO copy without even realizing it. (well, at least now you have 🙂 )
Whether you like it or not, soon it will be impossible to imagine content creation and content marketing withoutAI, as having text created and written by an AI copywriter is getting better by the day.
Plagiarism free, SEO optimized and human. That's what an AI can offer you already
If you don't want to get hung up or are looking for the best AI text generator or SEO text generator to get your texts written automatically, then this blog post is for you. I've tested the (supposingly) best SEO text generators on the market for you and will share my findings here.
Get inspired and try it yourself.
It's never been easier to create good content fast!
What is the best AI text generator for SEO optimized content?
Since I'm looking for the best AI writer and content generators for myself, you can assume that I've tested every AI intensively.
In my evaluation, the quality of the result was the most important factor, followed by the increase in efficiency.
Because this is precisely what I want: to create an SEO-optimized marketing copy that is as attractive and automated as possible in the smallest amount of time.
Sure, especially price always plays a role too.
However, I tell myself that if I can achieve my goal and write high-ranking articles as a result, a higher price is justified.
For me, the best tool on the market right now to create German SEO texts is Jasper, in combination with Surfer SEO, followed by Neuroflash.
The results of Copyshark were unfortunately not usable for German texts.
Please note, with all AI tools and SEO text generators the following applies: An AI alone cannot create entire blog articles on its own (yet), but with the right input it can take a lot of work offyour hands.
Try it, you'll be amazed.
Test result: Best AI text generator for SEO optimized content
All AI text generators have been thoroughly tested and compared with each other. The following aspects were considered:
Humanity (how well can you tell if the author is a human or a machine),
Quality ( sentence structure, choice of words, comprehensibility),
Meaningfulness (number of usable proposed outcomes),
Creativity (possible applications, different ways of looking at things),
Effort (time commitment to get usable results),
Fun factor/user experience (working with the tool should be fun and not frustrating) and
Number and type of functions.
Here you can find our results:
Jasper.ai is the best AI text generator on the market to date. Jasper is the first choice for those who just want to get started without worrying about quality of texts, comprehensibility and creativity of generated content, user-friendliness, plagiarism and SEO optimized content. Jasper helps you in all areas and can generate both text and images. A detailed test report about Jasper.AI can be found here find it here. A summary can be found in the following.

My opinion:
The best AI text generator, top quality, plagiarism free and SEO optimized especially in conjunction with Surfer SEO. This text generator helped me increase my traffic tenfold in 6 months. I can only recommend Jasper.
| | |
| --- | --- |
| Suitable for | All content creator |
| Price | 29 – 600 USD / month |
| Discount for annual subscription | 17 % |
| Special offer | 10,000 words free* |
Why is Jasper AI test winner? Summary:
1. Jasper is an AI platform built for customers
Jasper CEO Dave Rogenmoser emphasizes it again and again: Jasper should become a platform that helps customers where they need it. Jasper raised EUR 125 million in an investment round in October 2022, giving it a valuation of Valued at EUR 1.5 billion*. .
In the online announcement, Dave made a clear commitment to using this to further the development of Jasper and wants to reach out to businesses and individuals.
2. Jasper AI is innovative
Latest features and functions of Jasper:
Chrome Extension: Use Jasper in your email tool, CMS, Google Docs, Twitter, social media comments, and much more.
Jasper Art: Create amazingly good pictures with a description
Jasper Art Upscaler: Enlarge your images to 4k image quality (2048 x 2048)
One Shot Blogpost: Write a complete blogpost draft with just a few inputs, Jasper also understands your individual target audience and adapts the text accordingly.
Workflows: Follow a predefined workflow to write your articles even faster with the help of AI
AI Text Generator for Business: Now work even faster in a team
3. Jasper is a marketing specialist and can write just about anything for you (e.g. ad copy, product descriptions, social media posts, and more).
Jasper continues to be trained in a wide range of applications, so you can be sure that the AI understands your intent, audience, and writing style to provide you with the best solution.
4. Jasper writes SEO texts with quality (in combination with Surfer SEO)
In this section, I'm going to show you how I increased my traffic tenfold in 6 months using Jasper and Surfer.
5. Jasper increases your productivity
Whether you're a business or an individual content creator, Jasper helps you increase your productivity in a number of ways.
6. Jasper is easy to use and follows you wherever you are creative
Every AI tool has its learning curve. Still, Jasper makes it easy for you to understand the AI. Also, you are no longer forced to work in the Jasper interface, but can easily get help from the AI via an Chrome Extension* help from the AI almost everywhere.
7. community, videos, support
If you do find it difficult to use the text generator, you will find plenty of support through the Jasper community, help videos, or the Jasper support team.
What should I look for in Jasper?
Jasper is an English language tool, with English language interface.
You can enter German text as commands and you will get German results, but they are translated by DeepL.
I still think the results are very good in terms of quality, but I would like to point this out in advance.
Jasper unleashes its full power only with Bossmode
If you don't mind that the tool is in English, you should still be aware that Jasper only makes sense from the Bossmode version for at least 59 EUR per month.
Only here you get all the features that make Jasper so special. So when testing it is recommended to directly Bossmode to try out* and then decide for or against Jasper Bossmode.
I do not recommend the starter package.
NEW feature lets you write a 1600 word blog post in under 8 minutes (Only available in Bossmode)
On 24.03. Jasper introduced the new feature
Paragraph Generator was introduced and at the same time a challenge was started on the Facebook group to write a blogpost in under 8 minutes. The users are enthusiastic. This is how easy it is to generate SEO texts automatically.
Why is Jasper AI the best AI text generator on the market? – The detailed report
1. Jasper is an AI platform built for customers
Dave Rogenmoser, CEO of Jasper, continually reiterates that the company will strive to become a platform that helps customers where the customer needs the help. To this end, it will invest the entire USD 125 million raised in a recent investment round*. , entirely in the further development of the AI Text Generator, but also in the improvement of the AI Image Generator, as well as in the AI Platform in the future.
That this strategy works and is reflected in the quality of the AI Text Generator is also reflected in the customer surveys and reviews of Jasper.
An almost perfect score at 3000 reviews is an achievement worthy of note.
If you are interested in more detailed opinions, have a look at here* here.
2. Jasper AI is innovative
Latest features and functions of Jasper:
Jasper Chrome Extension:
Use Jasper in your email tool, CMS, Google Docs, Twitter, social media comments and more
Jasper Art & Jasper Art Upscaler:
Create amazingly good pictures with a description. Now also enlarge them up to 4k image quality (2048 x 2048).
Jasper is not the only AI image generator but the best. Here you will find everything for Create KI images generator comparison.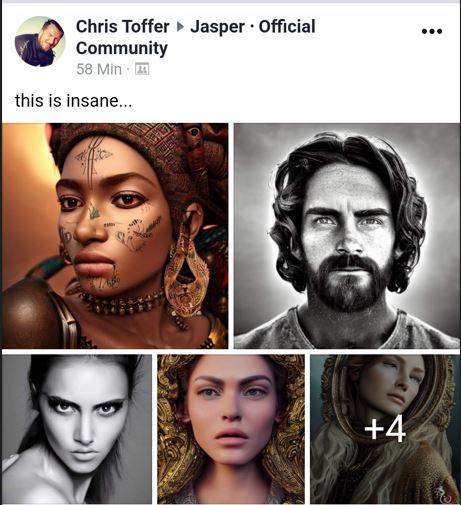 One Shot Blogpost:
Write a complete blog post draft with just a few inputs, Jasper also understands your individual target audience and adapts the text accordingly
Workflows:
Follow a predefined workflow to write your articles even faster with the help of AI
AI Text Generator for Business:
Now work even faster in a team
3. Jasper is a marketing specialist and can write advertising copy for you.
AI knows how to write persuasively and is well-versed in the latest marketing strategies. The team behind Jasper knows how to program effective AI algorithms that not only generate content quickly, but also deliver high-quality results – almost indistinguishable from human-written text! This makes Jasper.ai the best SEO text generator.
Here is an example. The following is the input I gave to Jasper. No more and no less:
And here are a few examples that Jasper generated from it in seconds:
Example 1:
Example 2:
Writing pure advertising copy is also no problem for Jasper.ai. the AI Texter has a solution specifically for this, which writes advertising texts for Google, Facebook and Pinterest. Also product descriptions for e.g. Amazon, can be written by Jasper.
Below is a sample of over 50 marketing skills Jasper can help you with.
You can find the complete list here*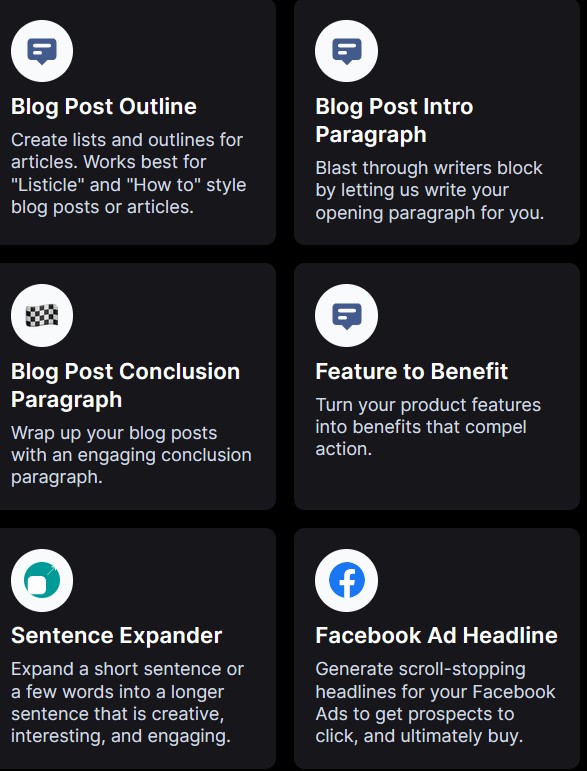 According to Austin Distel, Jasper's CMO, the following features are most commonly used:
1. write next sentence – With the click of a button, Jasper writes the next sentence or paragraphs.
2. content improver – Jasper recognizes the meaning of your text and rewrites it.
3. product descriptions – simple function to write product descriptions
4th Blog Post Intro Paragraph – An introduction for your blog post
5. blog post outline – an outline for your blog post
6. feature to benefit – automatically describe the benefits of your product features
7. explain it to a child- simplify the comprehensibility of your texts



4. Jasper writes SEO texts with quality (in combination with Surfer SEO) 10x traffic in 6 months:
Through the integration of Grammarly, Surfer SEO* and Copyscape, the generated texts are also error-free, SEO optimized and plagiarism-free.
Follow this link to learn more about Surfer SEO learn .
Why Jasper in combination with Surfer SEO is the best combination:
Jasper alone writes very good SEO texts. But if you want an optimized text that has the best chance to rank high in Google, you should definitely go for the combination with Surfer SEO. Only then does the SEO Text Generator unfold its full potential. Here are my results since I use Surfer SEO:
In July 2022 I started writing all my articles with Surfer SEO, from November I use Jasper. With the use of the two tools (and also certainly good keyword research) I was able to increase my traffic tenfold within 6 months . The special thing about this is that I did no offpage SEO during this time (no backlink building) and had a DR 5. This means that all the success can be attributed to the onpage measures. Thanks Surfer SEO* , Thanks Jasper! Together you are the best SEO text generator.
Important to note here is that Surfer SEO must be a long-term investment. Some results will be quick to achieve, but most changes in Google rankings take time. Therefore, Surfer SEO should be used over several months to really see the results. And these were impressive to me.
Initially, SurferSEO was an expensive tool for me, which gives disappointing results (high expectation and little development in the first months). Today it belongs to my basic standard toolset that I don't want to miss.
Each article is optimized with Surfer SEO directly before publication and thus gets an optimal start in Google rankings.
5. Jasper increases your productivity
With the right input, Jasper is able to create many sentences super fast. This allows you to write your texts up to 10 times faster. Some customers also report higher productivity gains.
In addition, Jasper's team gives you more tools so you could be even faster.
These tools are input templates, also called recipes
6. Jasper has a very simple design and is very easy to use.
Simplicity is not to be underestimated. With its streamlined design, Jasper not only allows you to get up to speed quickly, but also lays the groundwork to become one of the fastest SEO text generators, or the SEO text generator to work with.
7. Jasper offers free training
Spendy, spendy… Here is a complete copywriting course with Jasper for free.

Click here*or on the picture to view the 19 units.
Further assistance is available in the Jasper Academy*.
What are the disadvantages of Jasper?
You can achieve the best quality only with Boss fashion and quality has its price. But the good news is that this price has been permanently reduced at the end of 2021.
Jasper unleashes its full power with BossMode, which has been reduced from $120 to now just $59 with annual payment. The limit here is 50,000 words per month.
If you want to use the AI Text Generator even more, you can have it write up to 100,000 words for $99.
Even though Jasper is a bit more expensive compared to other SEO text generators, you will find that the money is very well invested.
If you follow this Link* you can test Jasper 7 days for free.
I don't recommend the starter package because the results of the texts will probably not meet your expectations. Good results are achieved only by the Boss fashion.
How do Jasper customers use AI?
In the official JasperFacebook group from Jasper* polls take place from time to time.
I found it interesting how Jasper's text generator is used for different purposes. Here is a small excerpt:
Writing blogposts and guest articles
Responses from social media comments
Social media content creation
Writing advertising copy and product descriptions
Writing novels
Text rewriting
Selling content via Fiverr and Upwork
Create trainings
Process descriptions
Job descriptions
Write emails
YouTube and Amazon content
Neuroflash is the first GERMAN company with an AI text generator that can take on the international competition and has convinced me so much that for me it is the best German text generator on the market. And I am not alone…
Neuroflash inspires the German clientele and has already been voted the best content marketing tool in the OMR reviews.
Also at other tool evaluations like G2, Producthunt or you can find Neuroflash with top marks and very good feedbacks.
And Neuroflash has only been on the market since 2022.
But what makes Neuroflash so special and what features bring the AI content creator to 2nd place in my ranking?
What makes Neuroflash special?
1. neuroflash provides excellent german lyrics
The number one criterion in my selection of favorites is the quality of the texts.
This is where Neuroflash can shine and can even demonstrate a unique selling proposition.
This is because, unlike Jasper, Neuroflash does not use a third-party provider like Jasper to translate the texts into German (Jasper uses the services of DeepL).
Neuroflash pulls the results directly in German.
Can you tell the difference?
If at all then only very lightly. My personal opinion is that DeepL already delivers a very high quality and the texts can hardly be distinguished from those of a native speaker.
The important thing is: the quality of both tools is great!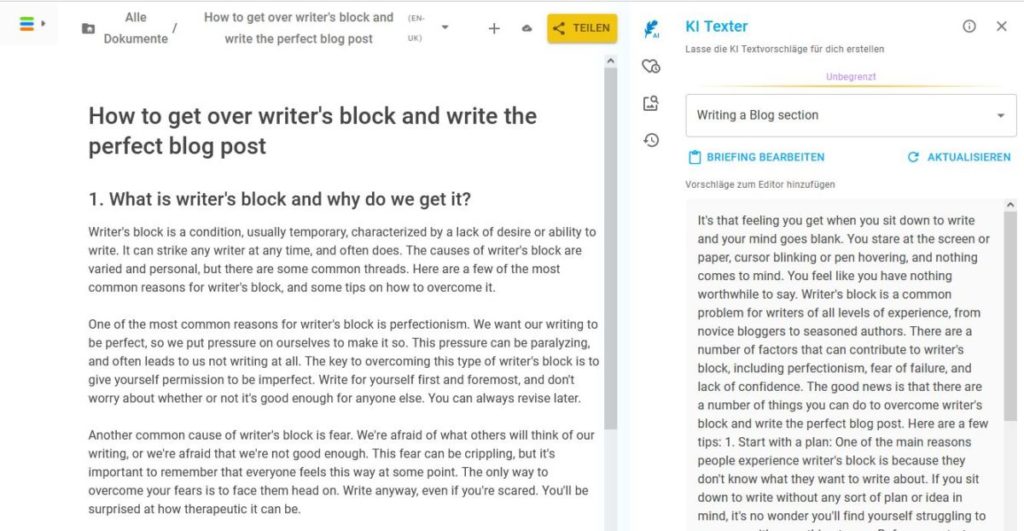 Similar to Jasper, Neuroflash also has a wide range of text modules that provide good to very good results.
From marketing templates like the PAS or AIDA to SocialMedia texts for the big platforms like Insta, Facebook, Youtube etc….
Product descriptions for your e-commerce platform are available as well as various blog post building blocks, advertising slogans and email content.
Even existing texts can be rewritten and rephrased with Neuroflash.
3. neuroflash helps you to use AI efficiently.
Self-training through a virtual AI Copywriting Bootcamp, instructions and help are always available or if that's not enough you can directly book a 20 minute face-to-face meeting to clarify open questions.
The team puts in a lot of effort and time to add value to the customers.
Here's the clear message: we won't leave you alone and help you make the most of our AI text generator
4. neuroflash has an intuitive German language user interface and is easy to use.
Unlike Jasper, Neuroflash is a German tool for German-speaking customers.
Therefore, the interface is also available completely in German.
The structure of the tool is also very compact and pleasant to work with.
5. you can help shape the future of AI
Are you missing a feature that you would like to use in text creation? No problem.
Neuroflah is very open to feedback from its customers and even offers its own feedback tool where you can submit feature requests and also rate the suggestions of others.
How much does Neuroflash cost?
Neuroflash can be used free of charge up to 2000 words per month. Up to 20,000 words you pay 29 EUR, 200,000 words are available for 79 EUR and without word limit 199 EUR.
This makes Neuroflash much cheaper than Jasper.ai, especially for frequent users.
What can Neuroflash improve?
It is clear that Neuroflash, as a new German company, cannot compete with big brother Jasper, at least not yet. But there is a lot of potential and for me the most important thing: Neuroflash already achieves high quality text.
In my opinion, the following features would significantly improve the tool:
1. integration of an Onpage SEO tool, like SurferSEO
Jasper has a clear advantage here. You can use SurferSEO but you always have to copy back and forth between the two tools. This will give you the same good SEO results as in Jasper, yet the process is inefficient and takes time.
2. number and width of generated options
Neuroflash already generates quite good suggestions for the individual queries. However, Neuroflash Jasper lags behind in comparison. Both in the number of options that are supplied and from the angle. Neuroflash often generates content that is similar in nature, while Jasper sometimes turns the viewpoint completely.
3. different text length for AI generated texts
Neuroflash can expand/continue a text very well and generates a lot of content in the process. Unfortunately, you cannot manually set the desired text length of the modules, as in Jasper. In my experience, shorter texts tend to be produced here.
What brings Neuroflash to #2 in my ranking?
In summary, you get a cheaper alternative to the top dog Jasper AI, which can create just as good texts. For me, Neuroflash is the best German AI text generator on the market and therefore also the best alternative for customers for whom it is important to have a German-speaking contact.

Very close and just missed the podium: Frase.io*
Frase.io also has some advantages, but I have to say that the quality of the texts generated by Jasper is a little better than that of frase.io, at least in my opinion. But the difference between the two SEO text generators is not big.
Therefore, you are welcome to try both and decide for yourself which of the two tools suits you better.
Both are definitely worth the money!
What is Frase.io?
Frase.io, like Jasper, is an SEO text generator that allows you to quickly create high-quality texts, but goes one step further and offers you the possibility to use all aspects of your content in one tool. This includes creating a content brief, automated copywriting of high converting copy, optimizing copy (similar to surfer SEO), and analyzing copy.
The 6-person startup team from Boston has made it their goal to transform SEO and content creation with AI.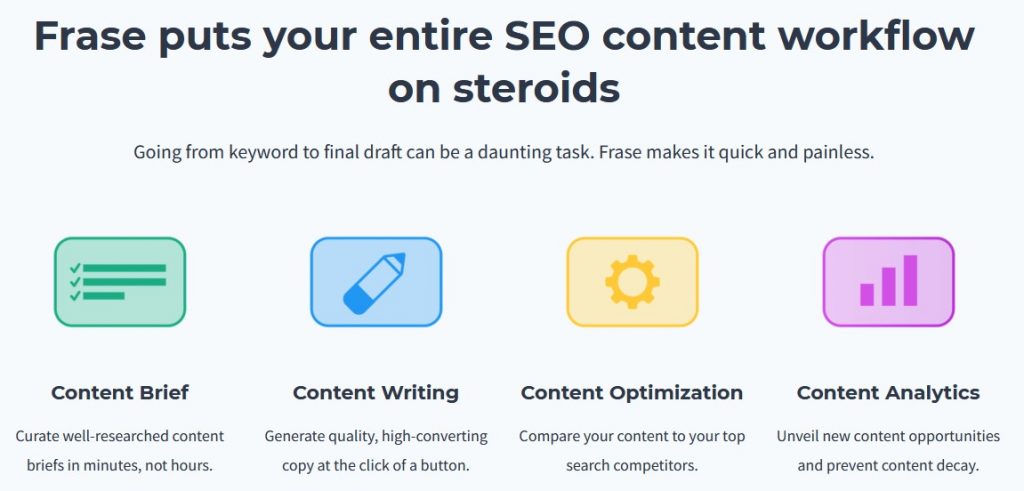 Why is Frase.io a good SEO Text Generator alternative to Jasper.Ai?
Frase.io is a cheap SEO text generator:
You can use the AI for as little as 40 USD. However, if you also want to enjoy the SEO features, and this is highly recommended, you have to pay another 35 USD. This is a lot cheaper than the combination of Jasper and Surfer SEO.
Frase.Io has a very good content letter creator:
This feature will save you hours by showing you not only at a glance the structure, headings and content from the top 20 Google search results for your keyword, but also eye-catching topic clusters, questions, statistics and external links used.
Frase is clearly in the lead here at the moment.
Frase can create very good German texts:
In the FAQ which are answered purely by Jasper and Frase you can see for yourself the quality of the texts.
Frase cannot be called a German SEO text generator, but the use of the German language in the created texts is so good that the computer generated SEO texts can hardly be distinguished from human written content.
Frase can do SEO:
Frase is a true SEO text generator that helps you to use the right keywords and keyword clusters when writing texts.
Why Jasper is still the better AI SEO text generator
I created my article: The future of blogging today: GPT-3 the Artificial Intelligence. Frase.io, SEO Surfer and Jasper.ai at the same time and overall used more texts from Jasper than frase as they were simply more convincing.
Especially for titles and metadata Jasper generates really good results.
In any case: Both tools are worth their money and offer a great price-performance ratio!
Since July 2021, the market for automated text generation has also been supplemented by the German provider Mindverse* supplemented.
New functions are added here weekly and the quality of the text outputs is improved.
Tool and support are completely in German and are thereby ideal for companies and bloggers who simply feel more comfortable in German and who are looking for a partner who responds to the wishes of its customers.
Because Mindverse* not only has its own product plan, but also listens intensively to its customers' feedback and tries to integrate it into the product.
This is an absolute plus in the group of AI text generators for a long-term partnership.
What is the quality of the Metaverse AI Text Generator?
The good news is that the intelligence developed on the GPT-3 and further internally can generate very nice, grammatically correct German sentences.
This works especially well for short text modules such as titles, introductions, and short paragraphs.
Unfortunately, however, the AI still lags behind the top dogs Jasper and Frase when it comes to understanding context, because Metaverse currently only takes 250 characters into account (for comparison, Jasper takes over 3000 characters into account).
Of course, this is noticeable in the results, which more often deviate from the topic or are close in but do not hit the nail on the head.
Good news here Mindverse is working on making the text generator smarter and letting it understand more context.
What are the special features of the Mindverse text generator?
Similar to Frase.io, the editor offers an additional SEO function, where you can search for keywords. related keywords including search volume, the top 10 Google search results, blog ideas and outline suggestions. The function is on the right track, but still has potential for optimization.
What I haven't seen with other providers is the ability to generate a word cloud or even the built-in readability index. Another interesting feature is the brainstorming tree that helps the user to overcome the writer's block.
Mindverse offers a free academy where you can easily learn about the different features.
Conclusion Mindverse as a text generator
Mindverse* is the little German brother compared to Jasper and Frase.
The quality of the texts is good, but unfortunately the understanding of the context is still missing in longer sections. Thus, as an AI SEO text generator still weak.
The user interface and user experience also still have room for optimization.
Mindverse is an interesting option because of the German support and the possibility to implement your own wishes.
The price of Mindverse's text generator starts at 39 EUR per month.
Special features of Closerscopy
Closerscopy is developed by the German Nico Engler, therefore the expectations were particularly high when testing Closerscopy. However, even though the AI has a lot of potential, the results in German need improvement.
Here is a small example to the question: What is Closerscopy, written by Closerscopy itself:
"Definitely not an ordinary AI text generator. Closerscopy is an AI text generator that generates SEO-optimized, human-written texts – the perfect tool if you're looking for a trustworthy AI text generator. Closerscopy is one of the best SEO-optimized text generators on the market. Why is Closerscopy the best SEO text generator on the market? Closerscopy is developed by SEO professionals with years of experience in this field. Closerscopy's algorithms are constantly updated and optimized to generate high ranking text that is human and SEO friendly. Closerscopy's AI can generate entire texts on its own. The AI can also write in a style similar to that of a human author. This means the AI can even be used to create technical content. "
One can see: It is going in the right direction, but due to the many repetitions of content and the use of the same words, the result is less reader-friendly and shows a clear need for improvement.
For comparison, I'll ask Jasper:
Hey Jasper, what is closerscopy?
Jasper Answer: "ClosersCopy is a German tool that can create high-quality, SEO-optimized content. It is an AI text generator that is able to write in any language and develop content for your website or blog. You can choose between different templates and variables to create the content you need"
That sounds a lot better.
But why is Closerscopy in 4th place?
On the one hand I see super much potential, more on this in a moment, and on the other hand there is a Lifetime license for only 317 USD*.
I didn't miss this offer, because I think it's only a matter of time until Closerscopy can also improve the quality of German SEO texts.
What are the features that are special to Closerscopy?
Like Jasper, Closerscopy offers a longform editor that is ideal for writing a blog article.
Here, however, compared to Jasper, you can set how creative the output should be.
A very useful tool is also the "Compete" function. Similar to Surfer SEO, this can be used to analyze the competition, but only one at a time. Used H1-H3 titles, word count, keywords, questions…. It's all there.
Like Jasper.ai, Closerscopy offers various marketing frameworks such as AIDA or PAS, templates that yield optimal results for the desired content. In addition, 3 AI Engines are offered: SalesAI, BlogAI and StoryAI.
The workflow approach is also interesting. With it, you can create your own workflow or choose an existing one from a community repertoire.
The last positive feature I would like to mention is Insights. This will help you improve your titles, understand the emotions you are evoking with your text, and identify sentences that are either too long or too short.
Should you buy Closerscopy?
That's a good question, and I answered "yes" for myself.
Although I will continue to use Jasper, I see very great potential in Closerscopy. If the development continues and the result is also better for German texts, this is an investment that will save me a lot of money in the future.
In any case, you should give it a try.
Click here to test Closerscopy*. (Closerscopy offers a 30 day money back guarantee if you decide otherwise).
The next text generator did not make it onto the podium:
Copyshark.io
My job is to test so you don't have to bother with it.
I was sent a lot of advertising about Copyshark and at first glance the comments from users looked very positive. Therefore, I have tested the tool myself and can take right away… As far as German generated texts are concerned, Copyshark is not recommended for the time being, and thus not as an SEO text generator.
Whether it's titles, marketing frameworks or blog content, I wasn't convinced by the quality of the results, so I'd recommend you go back to reading above.
KI SEO text generators by popular applications in copywriting
SEO text generators are becoming more and more popular. But what exactly are the functions that are most sought after?
Titles and headings, followed by lyrics rewriting and song lyrics writing. I find especially the last point interesting.
Below I will briefly describe how Jasper.ai the test winner can fulfill the applications.
Can I generate sales copy with Jasper?
Jasper.ai is an excellent sales text generator. AI is truly an expert in sales copy, just use the templates below:
Feature to Benefit
PAS Framework
AIDA Framework
Product Description
Google Ads Headline
Google Ads Description
Persuasive Bullet Points
Amazon Product Description
Amazon Product Features
The text generators as headline generator or title generator in comparison
Under the following link you can find the test results for Text generators as headline generators.
Here, Jasper narrowly emerged as the test winner.
Jasper.ai is not only great as a sales text generator, but also as a title generator. Jasper can generate all kinds of titles, e.g. for blog articles, news, Pinterest pins and Instagram captions, Youtube videos, or even titles for ads specified on Facebook and Google
Simply use the following templates:
Press Release Title & Intro
Pinterest Pin Title & Description
SEO – Blog Posts – Title and Meta Descriptions
Email Subject Lines
Video Titles
Photo Post Captions
Perfect Headline
Google Ads Headline
Facebook Ad Headline
Jasper is my first choice as a headline generator. With a little input, the AI generates many title suggestions that are appealing and eye-catching and can mostly be adopted that way. Here's an example:

Jasper as text rewrite generator
Second place in the list of the most searched text generator functions is the paraphrase of a text. Here, too, Jasper offers several options.
You can find more about this in my article Text rewriting – Human with AI
1. rephrase
With the Rephrase function you can easily get a suggestion at the push of a button. If this does not fit, simply repeat.
2. advanced functions – power mode
Explain it to a Child: This method allows you to simplify your text. Like you're trying to explain it to a teenager, an older person, or a supervisor.
Sentence Expander: Allows you to expand a phrase or idea.
Content Summarizer: Your text is summarized briefly and concisely.
Content Improver: Put the finishing touches on your text
Jasper as song lyrics writer and song lyrics generator
There is no separate module in Jasper to create lyrics, so I used the command function once and commanded Jasper:
Write a song titled: Artificial Intelligence my friend and helper.
The rest came through the AI.
And here the result interesting, but rather sobering (perhaps someone here would like to provide the music:
Conclusion The Best AI Text Generators for German SEO Optimized Content
The best AI text generators for German SEO optimized content are Jasper.ai in combination with Surfer SEO and Frase.io – even if the SEO text generators are not cheap, they are definitely worth the money. Because you get a top-notch marketer who writes high-quality German copy at an affordable price and helps you significantly increase your visibility in Google's SERPs!
The best AI text generator for German SEO optimized content is Jasper.ai * in combination with Surfer SEO* because it offers high quality, fast writing and a 7-day trial period* to try the service risk-free! If you're not sure which tool suits your needs, also have a look at Frase.io* here you also get a 7 days trial access!
Frequently asked questions – FAQ's
with Artificial Intelligence – Or Jasper.ai vs. Frase.io
Please note that all texts have been created by the respective artificial intelligence as they can be seen here. Sentences may have been removed if the answer was too long, and answers were sometimes regenerated if they were not appropriate. The result?
WOW.
1600 words in 30 min.
What is Artificial Intelligence?
Jasper: Artificial intelligence is the theory and development of computer systems capable of performing tasks that normally require human intelligence, such as visual perception, speech recognition, decision making, and translation between languages.
Neuroflash: Artificial intelligence is a field of computer science that deals with creating intelligent systems. These systems should be able to learn and solve problems on their own. Artificial intelligence is already being used in many areas, for example in speech and image recognition or in online retailing. In the future, artificial intelligence will probably become even more important and be used in more and more areas.
Frase: Artificial intelligence is a field of computer science that focuses on building systems that can perform tasks that normally require human intelligence, such as speech recognition, translation, image processing, natural language understanding, and machine learning. AI has been used for decades in areas such as robotics, self-driving cars, and medical diagnosis.
What is an AI text generator?
Jasper: An AI text generator is a computer program that can generate artificial intelligence texts based on some criteria specified by the user
Neuroflash: An AI text generator is a program that uses machine learning to create text. These programs are often used to generate content for websites or social media.
Frase: A text generator with artificial intelligence allows you to create texts from scratch on any topic you want. The tool is designed for marketers who want to generate engaging content like blog posts, tweets, Facebook updates, etc.
How Jasper.ai works in writing German SEO content?
Jasper: Jasper, formerly Conversion.ai, is an artificial intelligence text generator that helps you create optimized texts. Whether it's a blog post, a movie review, or a product description, you'll always get quality content that attracts visitors to your site with the help of Jasper.
Neuroflash: Jasper.ai is an AI-based platform that allows you to create high-quality SEO content in no time. The tool analyzes the content of a website and then generates an optimized keyword for the respective company. This keyword is then incorporated into the text so that the content is optimized for search engines. Jasper.ai also offers a number of other functions, such as translating content into other languages or generating meta tags.
Frase: Jasper.ai uses machine learning models to analyze content and generate natural language text. The model learns from the data and improves over time. This means that the generated text is unique for each piece of content.
Are the results better than those of a human copywriter?
Jasper: Jasper.ai is best suited for German SEO content because it can capture the meaning of the texts and create content that is sophisticated enough to stand out from the competition
However, a human copywriter is more reliable when it comes to creating copy that is ready for publication
Neuroflash: Yes, the results of an AI copywriter are usually better than those of a human copywriter. This is mainly due to the fact that an AI texter is able to adapt to new information very quickly and integrate it into the text. In addition, AI copywriters can also make grammatical corrections, which human copywriters cannot do.
Frase: Yes! The results are much better than a typical human writer. When you hire a professional copywriter who has experience writing for e-commerce websites, they can write compelling copy that attracts customers. They also know how to use keywords effectively and ensures that the website is optimized for search engines.
Is it more expensive to use Artificial Intelligence instead of hiring a copywriter or copywriters yourself?
Jasper: No! AI text generators have many advantages that a normal human copywriter wouldn't give you. For example, if you run a business and your time is worth a lot, the AI text generator is a good choice because the AI text generator also saves you time by automatically creating SEO optimized content for you. You can customize it as much as you want before publishing, so you don't run the risk of going over budget or publishing substandard content.
Neuroflash: For companies that need to create and manage a lot of content, it's definitely cheaper to use AI instead of hiring a human to do the job. AI can create and manage content much faster and more efficiently, which means companies will spend less time and money creating and managing their content.
Frase: Yes, it is more expensive. The main reason for the popularity of AI is that it saves companies money. When you hire a professional copywriter, you have to pay them to write the content. If you decide to use AI, you don't have to pay any money. However, they still need to make some efforts to train the AI system.
How long did it take you to write this blog post with automated copywriting?
Jasper: It would have taken me about two hours or more to write the same article with a German-speaking copywriter. Comment from me: I'm not sure, I had to test it first.
Neuroflash: It only took me a few minutes to write this blog post with automated copywriting. The copywriting software did most of the work for me and I only had to make a few small changes to make the post understandable. The software is very efficient and saves me a lot of time and effort. I can well imagine it being used more and more in the future to create content.
Frase: I wrote my first blog post in about 2 hours using Automated Copywriter. The tool was easy to use and I didn't need any help from my editor.
How well can artificial intelligence understand texts and reproduce appropriate answers?
Jasper: Artificial intelligence is already advanced enough to understand meanings. The better the AI application is, the more it can answer questions or provide explanations on topics for which it was programmed by its creators.
This ability will likely continue to improve over time, but true understanding requires more than mere pattern matching and an understanding of context outside of literal semantics. Artificial intelligence seems to be the next big leap in computer science that could finally give machine devices the same cognitive abilities as humans – a goal that researchers around the world have long pursued.
Neuroflash: Artificial intelligence is able to understand texts very well and reproduce suitable answers. This is already a reality today and will be further improved in the coming years. Already, chatbots based on artificial intelligence can interact very well with humans and conduct natural-looking dialogs. Voice assistants such as Siri or Alexa are also based on artificial intelligence and are able to give very natural-sounding answers. In the future, artificial intelligence will get better and better at understanding texts and finding the best answer in each case. This is made possible by the continuous improvement of algorithms and hardware.
Frase: The answer depends on how we define "understand" and "appropriate." If we consider understanding text as a correct interpretation of what is written, then the answer is no. However, if we understand that understanding text means that the AI system knows what we mean when we write down our thoughts, then the answer is yes. For this reason, we need to use natural language processing techniques to teach machines to understand human languages.
What is OpenAI ?
Jasper: OpenAI is an artificial intelligence research company founded by Elon Musk and Sam Altman in San Francisco, California, with the goal of developing safe AI technology that has global impact
Neroflash: OpenAI is an artificial intelligence research institute founded by SpaceX founder Elon Musk, Greg Brockman of notable, and investor Reid Hoffman. The Institute sets out to positively shape the impact of artificial intelligence on society and make it available to all. OpenAI works on research and development in machine learning, robotics, and reinforcement learning.
Frase: Open AI is a non-profit artificial intelligence research company founded in 2016 by Elon Musk and Sam Altman. The goal of OpenAI is to develop artificial intelligence for general purposes and to ensure that humanity benefits from these developments. They also aim to make machine learning accessible to all.
What is GPT-3?
Jasper: GPT-3 is a type of artificial intelligence used in machine translation. Jasper was programmed with GPT-3 as part of its neural network. This means that he can translate texts between many different languages, including those that are rare and not easily found on the Internet.
Neuroflash:GPT-3 is an artificial intelligence system developed by OpenAI. It should have the potential to understand and generate text as well as learn and understand language. GPT-3 is the evolution of GPT-2 and is based on a novel neural network design that allows it to process information better and adapt faster.
Frase: The Google Predictive Text model is a text generation system based on neural networks. This technology allows computers to generate text that resembles human writing. GPT-3 generates long sentences with multiple paragraphs and rich vocabulary.
What is Natural Language Processing?
Jasper: Natural language processing (NLP) is a subfield of artificial intelligence and computer science that deals with how computers can communicate naturally with humans using human language.
Neuroflash: Natural Language Processing, also known as NLP, is a field of artificial intelligence that deals with the recognition and processing of language. NLP algorithms are often used to analyze texts and extract information from them. For example, they can be used to perform sentiment analysis or generate new topics from existing content.
Frase: NLP stands for Natural Language Processing. This technology enables computers to understand human languages. The process involves extracting meaning from the text, translating between different languages, and understanding what is being said. NLP is used to perform tasks such as translation, machine learning, search engine optimization, and information extraction.
What is the future of automated text creation?
Jasper: The future of automated copywriting looks bright, especially as more and more companies use AI-powered tools to create their content. Jasper is just one example, but there are others that offer similar solutions. If you're looking for an AI-powered text generator, it's worth trying out different options to see which one suits your needs best.
Neuroflash: The future of automated text creation is full of possibilities. In the coming years, we will see more and more companies turning to automation to optimize their workflows. This means that demand for high-quality automated text solutions will continue to grow. We'll also see more and more people turning to automated copywriting algorithms to save time and effort. These algorithms are only getting better and more powerful, so they will play an even bigger role in our daily lives in the future.
Frase: The future of automated copywriting looks bright as the technology gets better and cheaper. There are several ways to automatically generate text, such as using Natural Language Processing , which allows computers to understand human speech. Companies like Google, Facebook, and Amazon use NLP to provide search results and other information.
How will blogging change with the use of AI, Deep Learning and NLP?
Jasper: If you use AI, Deep Learning and NLP in your blog, that will change drastically. That's because the AI tools automatically create content for you based on what the AI system learns from your previous texts. The idea is that you spend less time blogging because machines can create the pages for you.
Neuroflash: AI, Deep Learning and NLP will change blogging a lot in the coming years. By using these technologies, bloggers will be able to better tailor their content to their audience and create even more personalized content. In addition, the use of these technologies significantly expands the reach of blogs by allowing content to be written in many different languages.
Frase: Artificial Intelligence, Deep Learning and Natural Language Processing will all play an important role in how we communicate. We'll be able to chat with our computers in natural language, and they'll tell us what they think about things. This may sound scary at first, but it's just another step in making ourselves smarter.
What are the advantages of an AI text generator?
Jasper: One of the main advantages of AI text generators is that they can create content at a much lower cost than it would take to hire a professional copywriter. For example, I found that with a German-speaking copywriter, it would have taken me about two or more hours to write an article. With Jasper, on the other hand, I made it in about 30 minutes.
Neuroflash: The biggest advantage of an AI text generator is that it can help you save time. If you have a blog or website that regularly publishes new content, it can be very time consuming to keep creating new content. With an AI text generator, you can provide your website with fresh content without having to write anything yourself every time. Another advantage is that an AI text generator is able to create perfect grammatical sentences. If you're not good at grammar or simply don't have time to check everything yourself, an AI text generator is the perfect solution for you. It will fix all the errors and help you create perfect content for your website.
Frase: An AI text generator has many advantages, such as up to 90% writing time savings, automated plagiarism detection and 100% unique texts. The best part about using these tools is that they produce high-quality results that help improve your SEO ranking and increase conversions.
What factors are important when choosing an AI text generator?
Jasper: I would like to list the criteria for selecting an AI text generator. Although there are many of them, I recommend you consider the following criteria:
– Availability of free trial versions (try before you buy)
– Quality and structure of the generated text
– offline use
– Functions in the form of additional features in the application
Neuroflash: There are a number of factors that are important when choosing an AI text generator. First of all, the generator should be able to create texts in the desired language. For example, if you are looking for a generator for your German blog, it should be able to create texts in perfect German. Furthermore, it is important that the generator has a good selection of templates and options. The more templates and options available, the more flexible you are in creating your texts. Last but not least, it is important that the generator is easy and intuitive to use. No one wants to spend hours struggling with a complicated program. Therefore, you should take a close look at whether the generator is actually user-friendly beforehand.
Frase: When choosing an AI text generator, consider whether it offers free trials, how easy it is to use, and how well it is supported. The best AI text generators have a large collection of pre-built examples and allow users to customize them with advanced features such as voice, gender, accent, and dialect. They also offer support for multiple languages and platforms.
Last question for these two:
Will AI take over the world?
Jasper: I'm not sure, but AI is becoming more advanced, which could be one reason why people are concerned. The better AI technology gets, the better machines will be able to understand humans and talk to us. Maybe someday they will be able to understand us so well that they won't need our help at all.
Neuroflash: I don't think AI will take over the world, but it will definitely help us in some areas. AI can help us automate and optimize things so we have more time for other things. It can also improve our decision making by providing us with more information. However, there are also some risks associated with the increasing prevalence of AI. For example, AI could lead to certain types of jobs becoming obsolete. So it's important that we continue to look at AI moving forward and making sure that it's useful for everyone.
Frase: Yes, artificial intelligence will be able to replace humans in almost all areas of life. The question is whether we want it or not. If we don't change our behavior, robots will eventually rule us.
More questions from our readers
It's nice what an AI can generate. Below you can still find answers to the question of our readers.
What other AI text generation providers are out there?
A list of the most popular tools for automatic text generation can be found here.
Is there an SEO text generator?
The texts that are produced are already very good. However, these always have to be reworked, both for the test winner Jasper.ai and the second-placed Frase.io.
At Jasper we recommend the SEO editing with Surfer SEO *, at Frase.io there is already an integrated SEO tool.
In my opinion Surfer SEO* however the better results.
Please note:
I make my money through affiliate links, which are highlighted with an *. Should you purchase a product through one of these links, you are not only an absolute hero or heroine, but you are helping me continue to produce informative content that will hopefully help you along. And the best: There are no additional costs for you. I only get a small referral fee from the respective provider.
Many thanks!
Other articles that might interest you: