Last Updated on 3 months by Christian Kaiser
About Us Page Generator – The Best AI's Compared
An about us page in no time: With an About Us page generator, you won't have to rack your brain to create the perfect page.
So you don't have to search long for an AI that offers you this help, we've done it for you. In our test, we will show you a comparison of the most popular AIs that will help you with your about us page.
We are testing here the AIs for the about us page, which we have already here in our comparison of text generator AIs. Enjoy the post!


About us page Generator – The results at a glance
Jasper.ai is clearly the AI you need to be assisted in creating your About Us page.
Neuroflash also offers a solution, but it is far from being as good as jasper.ai.
Frase, Closerscopy and Mindverse do not offer About Us text generators.
| AI | Jasper | Neuroflash | Frase | Closerscopyy | Mindverse |
| --- | --- | --- | --- | --- | --- |
| Humanity | very good | very good | – | – | – |
| Quality | very good | good | – | – | – |
| Sense of purpose | very good | deficient | – | – | – |
| Creativity | good | deficient | – | – | – |
| Effort | very good | deficient | – | – | – |
| Fun factor/ user experience | very good | deficient | – | — | – |
| Overall rating | Best AI | deficient | – | – | – |
How the About Us Page Generators were tested
The examples below were entered into the AI's and evaluated. The following aspects were considered: Humanity (how well can you tell if the author is a human or a machine), Quality ( sentence structure, word choice, comprehensibility), Meaningfulness (number of usable suggested results), Creativity (application possibilities, different points of view), Effort (time investment to get usable results), Fun factor/ user experience (working with the tool should be fun and not frustrating), Number of functions.
Subject : WinningFour2Six – SEO, Online Marketing Tools and Artificial Intelligence Tips and Tools for a Successful Online Business
Results About Us Page Generator – WinningFour2Six – SEO, Online Marketing Tools and Artificial Intelligence Tips and Tools for a Successful Online Business
Jasper.ai – Company Bio
Jasper can help you create your About Us page. With the Company Bio tool it is possible to quickly create good templates for your About Us page based on entering your company or name and some information about your company. The quality fits and different types of texts are created.
Here is an example that I liked very much:
WinningFour2Six is a company that provides online marketing tools and consulting for small businesses, with a focus on SEO and artificial intelligence.
We believe that everyone should have the opportunity to succeed in business, regardless of location or budget.
That's why we offer our tips and tools for free, so anyone can use them to grow their business.
We also believe in the importance of using the latest technologies to help companies achieve their goals.
With our help you can be successful online!
And another example:
WinningFour2Six is the leading authority on SEO, online marketing tools and artificial intelligence.
We offer tips and tools to help you build a successful online business.
Our goal is to make online entrepreneurship fun, easy and profitable for everyone.
We believe that anyone can achieve their dreams if they have the right information and tools. With our help, you can achieve your goals and live the life you've always wanted.
Not bad at all, right?
Neuroflash
Also Neuroflash offers its own feature to help you create your About Us page. Unfortunately, even after several generation attempts Neuroflash could not deliver a result that would have convinced me. I would rather say missed the point in most cases.
Here is still the best result that was generated:
We are a successful online business specializing in providing SEO services and online marketing tools. We have also developed an AI solution that enables companies to analyze their customer data to improve their marketing.
Frase – Closerscopy – Mindverse
All three competing products do not provide a direct function to support the creation of an About Us page.
Why is a good About Us page so important?
Why is the About Us page so important that you need the help of an AI right away? Isn't it enough to sit down quickly, write up the most important facts, and then add a few photos?
The short answer: No! Because an About Us page is one of the most important components when it comes to your general website. It's important that everything sits here and you don't show a half-hearted or unprofessional side. Unfortunately, this can backfire very quickly and also affect your business.
Because at the end of the day, this is all about trust. And you can guess: if people don't trust you and your business, they won't trust your product or service. If you seem half-hearted, unmotivated or unprofessional (and this impression is created by the website, respectively the About Us page), then it is very obvious to a potential customer that your offer is no different!
In most cases, potential customers will find you through search results or discover advertisements that interest them. Rarely will you be found through referrals. Accordingly, of course, you need to optimize these options especially – for example, the ads that you place. From these, your potential buyers will then be redirected to a landing page that absolutely must sit.
For many companies, these are the most important points to consider. It's a different story for the self-employed – or anyone who advertises personal services. Because in this case, a potential customer will be interested not only in the product itself, but also in the person behind it.
For example, anyone looking for a personal trainer or digital fitness plan online will also want to find out exactly who the author or trainer is. Who is this person to whom I entrust my physical well-being and athletic success? Is this person really qualified? Is this someone I want to work with?
The About Us page in this case reflects the person who owns the business. It is important that you show yourself and your company really well here and create a serious impression. Friendly, with good values, lots of passion and competence: this is how you immediately give the impression that you take your job seriously, are good at it and, above all, are trustworthy.
You can already see that you should work with an AI here if you are not well versed in writing such texts yourself. Because the About Us page is an important part of your homepage and should sit fully!
What makes a good About Us page?
You already know why this part of your website is so important – this is also part of the content marketing of the company website. But what exactly makes a good site? After all, you need to know this in order to judge whether your site is already good or needs to be optimized again. There are three significant factors that play a major role. These are the things you need to pay attention to in order to produce a good About Us page:
Design
The design is the first impression and in this respect it is very important. You may have heard that we form a first impression in under a second – so fast. Accordingly, this refers to superficial things. With people, these are clothing, posture, gestures and facial expressions. For a website, it's the design: colors, layout, fonts, …
Make sure you have a design that fits your general concept, value and goal and is appropriate for your target audience. In addition, the design should be clear and uncomplicated, but not simplistic. Also, make sure that it doesn't differ from the rest of your website, because a consistent Concept is important.
Language
The language is very important. This is about the obvious things like spelling, punctuation, and grammar, but other things as well: Tone of voice and address also play a big role. If your target audience is youthful, for example, you should write in a friendly and open manner and, above all, in a freer youth language. A website aimed at scientists should also adopt a factual, informative and more upscale style.
Content
The content is of course very important in the end. You certainly know yourself roughly what you would like to read about a company on the about us page. Nevertheless, in the following point you will find once again a more detailed guide to what we think is important here.
What content belongs in a good About Us page?
The design and language are just two of three important points you need to keep in mind in order to put up an ideal About Us page that inspires confidence and underpins your professionalism. But that aside, at the end of the day, it's all about the content. If you only talk empty talk or even absolute nonsense, you will not be able to convince anyone of yourself, your company or your offers. So what do you need to look out for on this site? What should you describe, explain, and list?
Who is behind the website?
It doesn't matter if the website is your personal website as an individual or freelancer, or if it's a corporate site. It is important that the user and thus potential customer knows exactly who is behind the page. So he should know that you are a freelancer or belong to a company. Introduce yourself or your team – in the case of a company, you should at least introduce the key employees if it is a large team. Also outline what you or they offer and how that can help potential customers.
What are the values represented?
Neutrality wins? No way! It is always important, especially today, to represent one's own values. Because this is the only way to create real friends, admirers and followers: or even customers!
So you should mention what you stand for in at least a subordinate clause. Do you care about the environment? Are you particularly concerned about customer satisfaction? It doesn't matter what's important to you, but you should name it. Of course, only the priorities that are really true (so don't tell lies!) and that also seem relevant to your potential customers.
Don't overdo it on this one either. Don't name too many values that are close to you, because as we all know, quality counts more than quantity! Define your values and stick to them meticulously, rather than tackling several things half-heartedly.
What are the goals?
Your goals are also a very important point that can tell a potential client a lot. The goals usually go hand in hand with the values, but in the end they are a bit more concrete. Here it is called: Mission and Vision!
If you specify customer satisfaction as a value, for example, you can now define another goal: For example, you want customers to have a wonderful experience and choose you and your service for the long term. You can even get more specific and say that you plan to roll out improved customer service in the next 6 months, with customer inquiries answered within 2 hours. Again, do not overdo it and do not tell lies.
More data
This can be anything that seems important: For example, a short story of how you came to be or even your location – this is especially exciting when people can visit you in person. If you act purely digitally, you can of course still say where you come from. But then it is not so important.
Don't overdo it with the other data, because you don't want an information overload either. But if something seems important to you, mention it.
The best About Us pages: Templates and examples
Do you have a plan by now how the perfect About Us page should look like, or are you still unsure? Then just take a look at our example and templates. If you want to make it easy on yourself, you can simply copy the templates and use them on your own site, inserting your own data. But of course, it's better to use original content that you write yourself or have an AI write.
1. example – "about us" from true fruits
True Fruits is particularly exciting and fun as an example because the entire brand presents itself very uniformly to the outside world: fresh, bold and youthful. This is evident in all promotional images, advertisements, in texts and also in the About Us page. By the way, this is divided into 5 more subpages (Guiding Principles, Campaigns, History, Team, Jobs).
True Fruits is so successful because all actions and public texts (including the About Us page) appeal to the target group, but also provoke a little and arouse general interest.
And here's the page: https://true-fruits.com/leitgedanken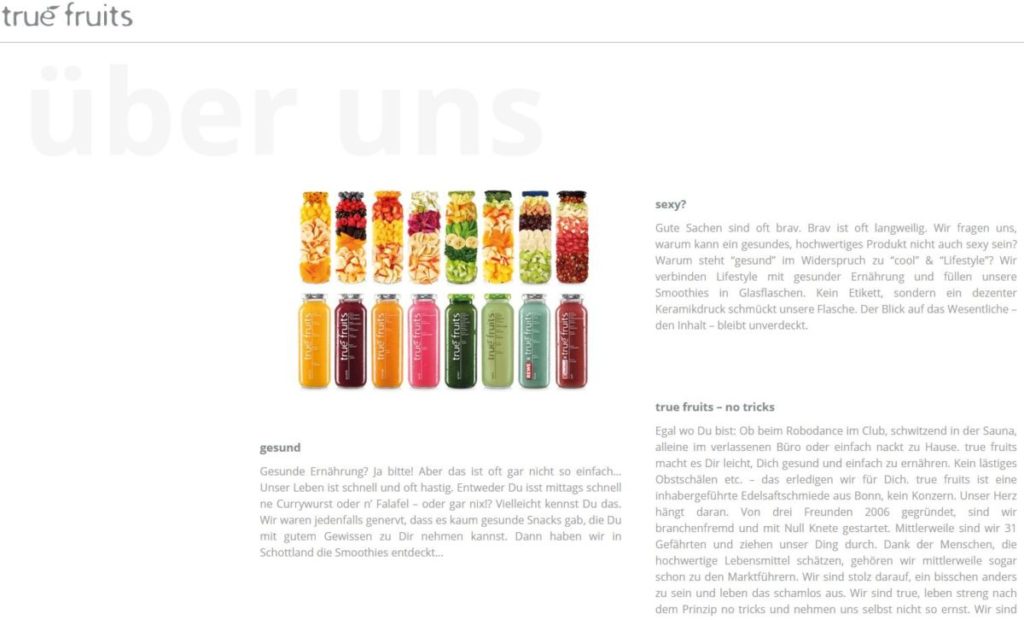 2. example – About Us from Hydrant
When you see Hydrant's About Us page, the thing that jumps out at you is the design. It's modern, chic and relaxed. You somehow feel immediately at ease on the site, which then also fits the texts; here the two founders tell how they found each other and why their company is so important to them. They also both include their own favorite product from their store – further inspiring trust.
A personal story as the basis for the About Us page is always very well received and is also a great idea. This way, a potential customer feels like they are part of something – like they belong. And already he also feels a little connected to the products.
And here's the page: https://www.drinkhydrant.com/pages/about#
3rd example – About Us from Dave
Dave also has a page that is a bit longer and more detailed. Still, it's populated with only the most important information, so you never have to wonder if you're wasting your time with the content.
At Dave's you will find again a founding story, the mission and some more. For example, the team members got their own pictures – drawings in which they are all smiling or even grinning. It makes you feel even more comfortable and at home. It also looks like this to a potential customer: If the team is happy and seems happy, then I as a customer will most likely be treated well.
With Dave, every sentence and every image wants to win the reader's trust: Comparisons to stories of weak versus strong and drawings of animals happily standing together. Everything has been done right here and the reader will surely be inspired.
And here's the page: https://dave.com/about
4. example – About Us from Wheel
Wheel does a lot of things right, and if you take a closer look, you'll see a lot of similarities with the other sites. But one thing is exciting: the reference to the name of the company.
Wheel means wheel – and so reference is made to it again and again. So one of the things it says is "moving healthcare forward." It's subtle enough not to become cliché, but the effect is spot on: the message comes across and Wheel stays in the back of your mind.
Also, once again, a story is told about why the company chose Wheel as its name in the first place. This story is also profound, honest and motivating. This makes Wheel's site unique and special and potential customers will feel carried away by it! Thus, Wheel shows itself to be trustworthy.
And here's the page: https://www.wheel.com/about
These examples should give you a really good idea of what an About Us page should look like. Nevertheless, you must be aware that simply copying these texts and putting them on your site is not an ideal solution. While they are good and can provide excellent solutions in individual cases, they will not fit every person and every company. Therefore, it is important that you read them carefully, see the similarities, and then put together your own about us page for yourself. At least now you know what's important, what needs to be considered in terms of content, and what that should look like in concrete terms.
Now, if you are a little unsure or think to yourself that you could never write such a text, it is not a problem at all. After all, you can fall back on one of the AIs that generate an about us page for you!
Why use an AI About Us page generator?
Now you're probably still wondering why you should actually trust an AI, when after all the corporate site needs a perfect About Us page. So what are the reasons for looking for a generator to do the job? Why not just write it yourself, have an employee or freelancer do it for you?
Basically, there is absolutely nothing against these options and if that's what you want, you should go for one of them. By no means do we want to claim that a generator is the only variant that really makes sense this way. There are only a few reasons for this, which we will tell you now.
Lack of expertise
If you're self-employed, don't have a team behind you, or only work with employees who aren't knowledgeable in this area, you'll quickly find that you all don't really know how to write a perfect About Us page. This is not so easy, requires some skill, experience and patience. Accordingly, it is always better to let a professional do the work. This can be a copywriter who does this professionally – or an AI that has been developed specifically to write such content. This can also give you some ideas that you wouldn't have thought of yourself.
Costs
A copywriter can often charge quite A lot of money charge. If that's available to you and you don't mind it, that's a very good option. But otherwise, an AI is usually the most cost-effective option for you if you want high-quality text!
Compared to a copywriter, an AI is also ready for use at any time – a copywriter is not. As a rule, you can rely on him, but unfortunately you can also quickly get a dubious author. Faulty texts, gaps in content or ignored deadlines unfortunately happen again and again.
Ideal contents
An AI created specifically for this purpose naturally also knows exactly what is currently trending, what particularly urgently needs to be on an about us page and how it can address readers perfectly. In short, you'll only get perfect content from an AI or a top-notch copywriter. But this is again a question of cost.
Time saved
Besides the cost, there's one more thing you should definitely consider: time! Because an AI will spit out the perfect text for you at record speed, which you can then use immediately. But a freelancer or ghostwriter may have other jobs to do first and generally smoke a certain amount of time to work. The AI saves you the waiting time.
What should be considered when using AI About Us page generators?
Although we think that such an AI as a generator is a really fantastic idea, there are just some things you need to consider before you decide and let a machine write your important text. It's not that simple after all. You should be aware of what exactly artificial intelligence means in your case.
Costs
Of course, an AI that puts such a text on your feet is not simply free. You should thoroughly research your budget, the prices of the AIs and their features before making a decision here. Consider whether price and performance are worth it in your case, or whether you should rather write a text yourself.
Jasper AI, by the way, starts at $29 a month for a basic 20,000-word-a-month option. You get Neuroflash for free if you only want 2,000 words a month. Then the price starts at $29 for 20,000 words – like Jaspe AI.
Quality
At the end of the day, we're still talking about an AI here, not a human. The intelligences are now so advanced that they can write as if they were human beings. Nevertheless, the fact remains that they are machines. They make mistakes or are not fully fleshed out yet. So if you let an artificial intelligence work on your text, you can only benefit from it. Nevertheless, you should then read through the result again and see if everything is good. If you don't like the result, your potential customers will dislike it too and you should obviously not post it on your business page.
But because of these points there is our comparison, which you can easily follow. Here you can see how we find the AIs. You can stick to our opinion, so you don't have to throw money out the window to pay for an AI that you don't like after all.
The AIs for the About Us page – a conclusion
We have now introduced you to the most relevant generators, all of which can relieve you of the tedious work of writing texts. In general, this is also a really great idea if you want to save time and money, or if you and your team simply lack the necessary expertise to write an appropriate text yourself.
The only important thing is that you always resort to your own research and do not simply believe the websites of the AIs. Look at testimonials and comparisons like ours to get a feel for the AIs. Also, you should at least skim the texts that are generated for you to see if they are really successful.
If you keep all of this in mind, you're on the right track and can definitely benefit from an AI!
Please note:
I make my money through affiliate links, which are highlighted with an *. Should you purchase a product through one of these links, you are not only an absolute hero or heroine, but you are helping me continue to produce informative content that will hopefully help you along. And the best: There are no additional costs for you. I only get a small referral fee from the respective provider.
Many thanks!
Other articles that might interest you: